SPRING into Savings
from now until Tuesday, April 2, 2019
Join us for Metric Halo's Spring Savings SPECTACULAR!
Act now and enjoy amazing deals on Metric Halo's best selling plugins and SpectraFoo software, and save on NEW Metric Halo 3d Audio Converters, Preamps and Interfaces!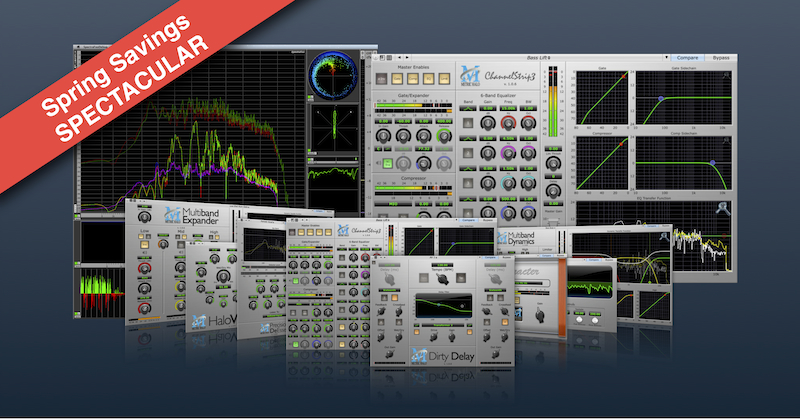 Or, buy now through your favorite Metric Halo Dealer or Distributor.

At these prices, all sales are final.
Try Before You Buy:
Metric Halo Demo Central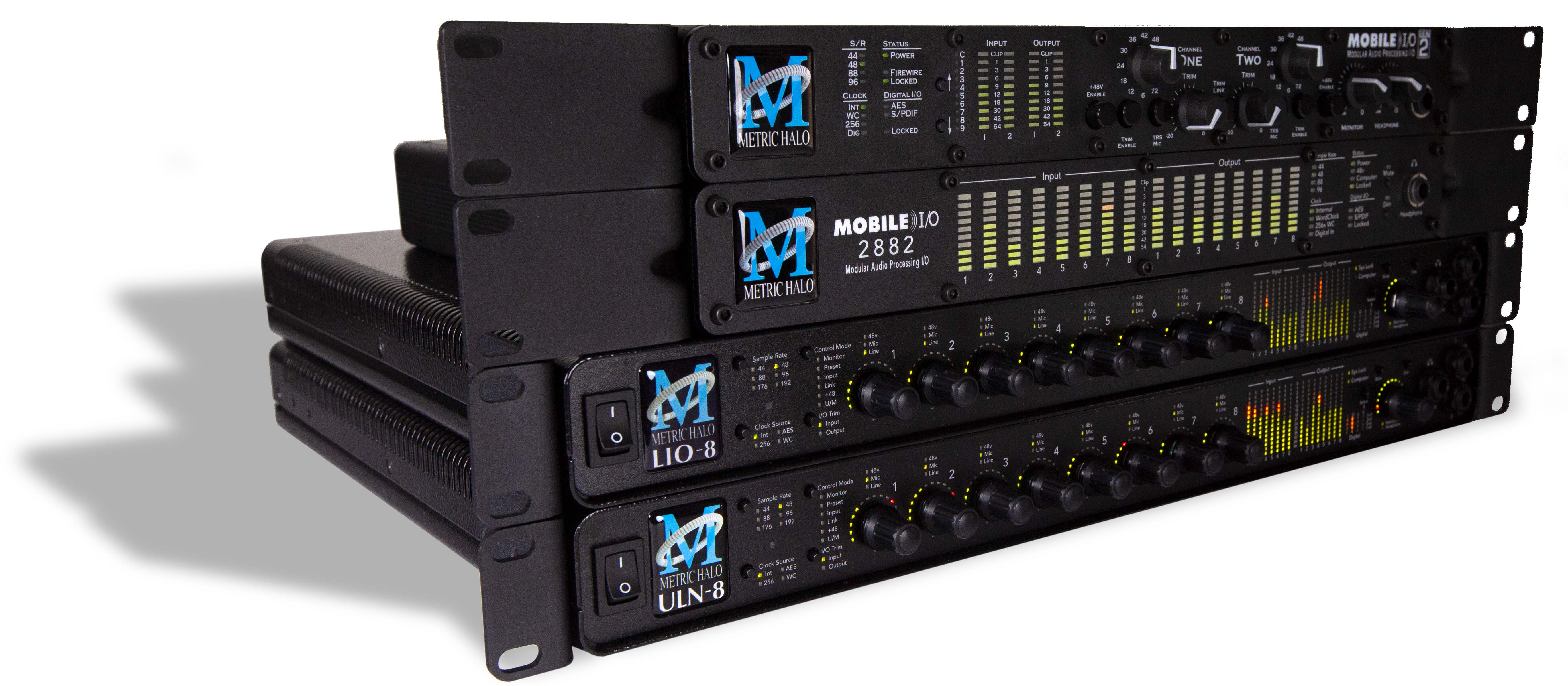 Metric Halo 3d Interfaces are shipping NOW!
Now's the perfect time to upgrade and expand your system with
Metric Halo 3d Technology!
The Metric Halo 3d Upgrade completely refreshes your Metric Halo devices for the next leg of the digital revolution.
MH 3d replaces all the digital & computer interfacing on your hardware with up-to-date, cutting-edge implementations, including
MH Link based Ethernet & USB-C interfacing
MH Link Audio — Metric Halo's new Direct Ethernet CoreAudio driver (with support for up to 128 channels of I/O @ 192k)
MH Console – A modern, 64-bit application to control your entire system with a simple, lightning fast and flexible routing model and a stunning new visual design
MH DSP Engine — Enhanced processing power and massive memory in the hardware. All 3d hardware includes the +DSP license providing over a hundred plug-ins and the unique Metric Halo Graph environment
More Channels. More Power. Simple Setup. Zero Latency. No Aggregate Devices Required.
All new MH devices include 3d technology.


Visit the following links, to learn more about Metric Halo 3d and the Metric Halo 3d Early Access Program (going on now):
Metric Halo 3d Early Access - Overview & Tech Specs
Metric Halo 3d Software Public Beta
New ULN-8 3d
Archival Grade w/ 8 Mic Pres +DSP
$3995
$3195
New LIO-8/4p 3d
Archival Grade w/ 4 Mic Pres +DSP
$3495
$2895
New LIO-8 3d
Line-Level Conversion +DSP
$2995
$2495
New 2882 3d
w/ 8 Mic Pres +DSP
$1795
$1595
New ULN-2 3d
w/ 2 Pristine Mic Pres +DSP
$1595
$1395
3d Upgrade for 2d Units
$599
$499
3d Upgrade for Legacy Units
$649
$549
SPDIF • AES 2
$100
$90
SPDIF • MIDI
$100
$90
SPDIF x2 • ADAT x2 3
$200
$180
SPDIF x1 • ADAT x2
$180
$160
ADAT x4
$200
$180
AES (8 Chan)
$250
$225
MADI Copper • Optical
$450
$405
MADI Copper x4
$450
$405
MADI Optical x2
$600
$540


Or, contact your favorite Metric Halo Dealer or Distributor to learn more.



1 MH EdgeCards are OPTIONAL: MH 3d preserves the same I/O in MH 2d hardware. EX: ULN-2 & 2882 3d Upgrades each come with the MH EdgeCard - AES/SPDIF included, and ULN-8 & LIO-8 3d Upgrades continue to support DB-25 AES, SMPTE and MIDI ports found in ULN-8 2d & LIO-8 2d.
2 The MH EdgeCard - AES/SPDIF is included with all ULN-2 3d / 2882 3d unit and upgrade orders.
3 MH EdgeCard - 2xSPDIF 2xADAT2 is only available for ULN-8 3d / LIO-8 3d.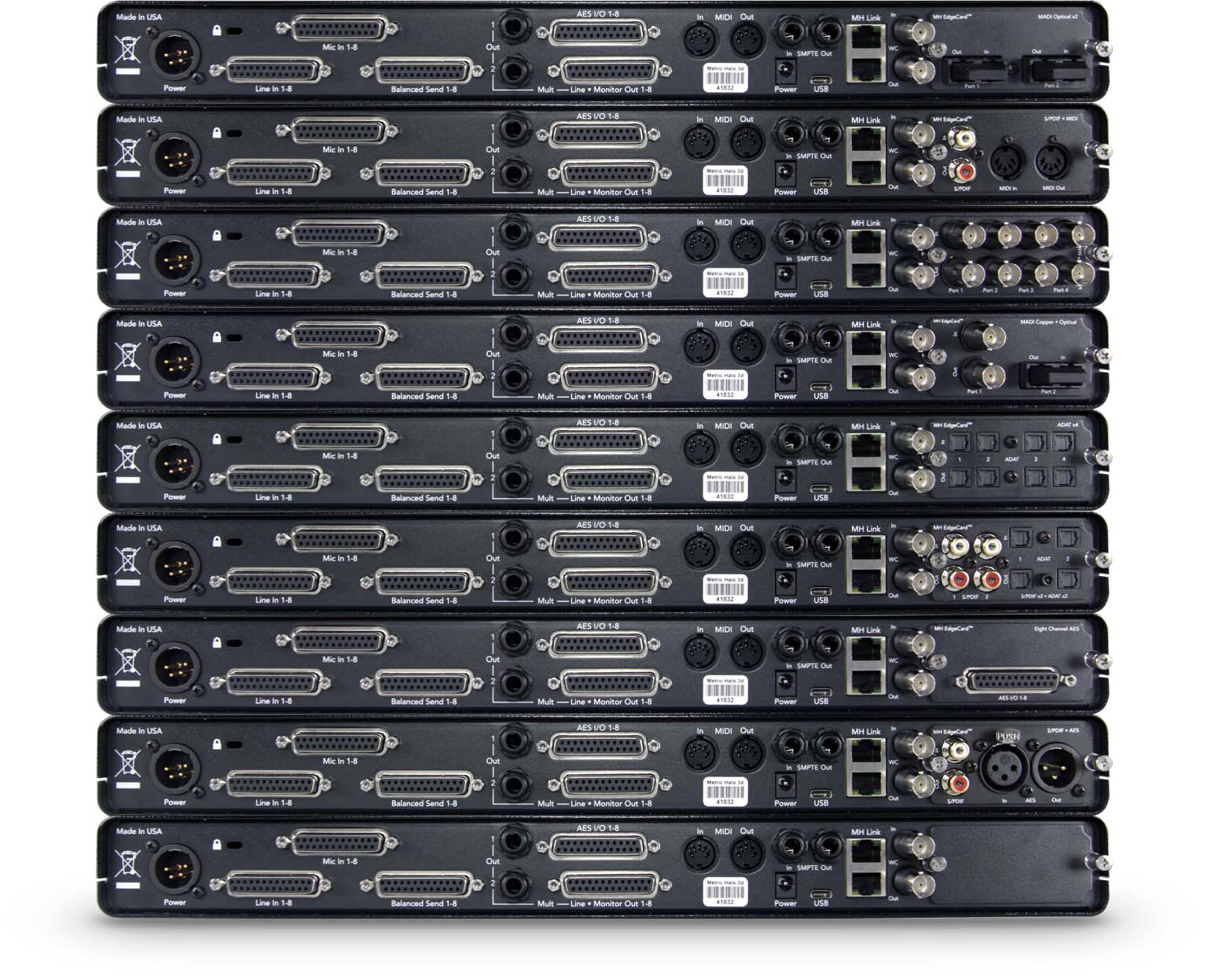 Stack of ULN-8s with all EdgeCard options


Metric Halo • 306 10th Ave N • Safety Harbor, FL 34695 • (727) 725-9555