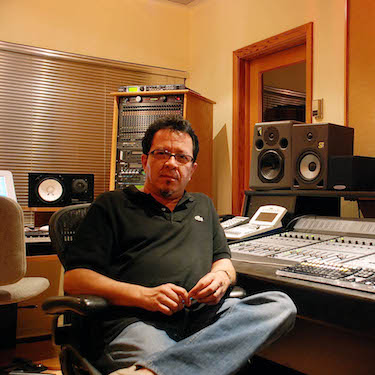 MIAMI, FLORIDA – SEPTEMBER 2017: With a career that now spans over four decades, Oscar D'León is a fearless bandleader and one of the greatest names in tropical music. Salsa fans worship him like a god, and everyone has heard his music (whether they know it or not!). Approximately a decade his junior, Rodolfo Castillo is a multiple Grammy Award-winning producer, engineer, songwriter, and publisher in the Latin music world who has ably navigated the fully-analog workflows of his early days to the fully-digital workflows of today. The two greats joined forces to record Fuzionando, which earned Castillo another Grammy Award for Best Engineered Album. Castillo delivered the analog soul expected for the album in a fully-digital production by using Metric Halo's venerable ChannelStrip plug-in.
"Oscar is an absolute legend in tropical music, and it was an honor to work on this album with him," Castillo said, humbly downplaying his own legendary status on the other side of the glass. "We recorded the entire project at my studio – Castle Recording Studios. Once we were finished, I produced some reference mixes, and everyone involved, Oscar and the label included, was excited about the sound I was getting." In the end, Castillo produced and recorded the entire album and mixed approximately eighty-percent of it.
"Every time I start a new project, I put Metric Halo ChannelStrip on every single channel," Castillo said. "It's the core of my mix production. It's the same for every genre I work in, from salsa to Latin rock." Thus, there is no exaggeration in saying that every single track of the songs he mixed on Fuzionando was stamped by the Metric Halo ChannelStrip signature.
"I started using Metric Halo ChannelStrip in the early 2000s, and it's been my favorite software tool ever since," he continued. "It's a very friendly plug-in. The gate, compressor, and equalizer sections are all laid out intelligently and the graphics are fantastic. Most importantly, the sound is robust. When I move a knob in ChannelStrip, it's like I'm moving a knob on a hardware processor; there's a physicality to it. It's a shame that people are so distracted by all the plug-ins on the market because Metric Halo got it right from the start. Everything sounds better coming out of the other side of ChannelStrip!"
Castillo explained that the record label, and even D'León himself, originally thought an analog recording would serve the project best. "All of the tropical music greats (himself included!) used to record on two-inch, sixteen-track analog machines, and it really defined the sound of the genre. So, everyone who was involved in the project was surprised when I started turning in mixes that had all of the analog soul that they thought would be missing from our digital recording. I'll take some credit, but I'll also give plenty of credit to Metric Halo ChannelStrip!"