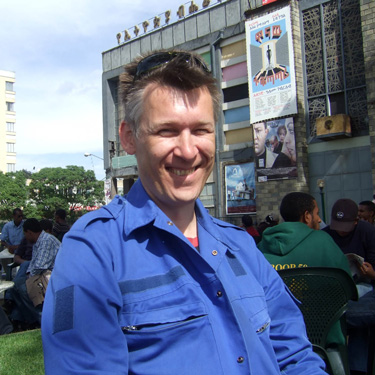 Multi-talented audio engineer, owner/operator of Zurich's Fishing Baker Studios and Metric-Halo aficionado, Jeroen Visser, in front of the Ethiopian National Theatre in Addis Ababa, Ethiopia.
ADDIS ABABA, ETHIOPIA – SEPTEMBER 2009: Now in its ninth year, the Ethiopian Music Festival (EMF) draws an amazing collection of musicians and performers from around Addis Ababa, Ethiopia's capital city of 2.7 million people, and from around the world, to participate in nine nights of shows scattered across many stages and many venues. The musical styles that are represented cut across genres and time periods to reflect the tremendous diversity of Ethiopia's varied nationalities and their rich musical traditions and lineages. This year marked the sixth time that Jeroen Visser, audio polymath and owner/operator of Zurich's Fishing Bakery Studios, was on hand to record the entire festival, this year with the pristine and stalwart help of a Metric Halo ULN-8 compact audio interface.
Everything about his assignment was challenging. First, getting into Ethiopia with recording gear required a careful culling of all that could be managed without. "I don't like to travel to Ethiopia with flight cases, because I immediately get pegged as something more than just a casual traveler," said Visser. "So I squeeze my 15-inch MacBook Pro into a suitcase with my Metric Halo ULN-8, an RME OctaMic, and a small collection of DPA, Earthworks, and Schoeps microphones. I tuck a few changes of clothes around everything to serve as both padding and a 'business-as-usual' subterfuge for the customs officials. My system works well, but it means that bulky gear is out of the question."
He also had to build a custom battery backup system to keep everything up and running in the event of a relatively routine power failure. "You never know when the power will go out in Addis Ababa," said Visser. "I basically built a box loaded up with rechargeable batteries that switches over the moment the power drops. That way, everything stays powered up, and when the power returns a few moments later, and the band kicks up, I'm ready for them."
But by far, Visser's greatest challenge was logistical. Instead of staying put, the festival moved from venue to venue throughout the capital city, often twice in one day. Not only was Visser taxed by a never-ending barrage of new bands and new instruments, he was faced with different acoustics and different floor plans – some of which left very little room for a sound engineer! As a general strategy of attack, he used the Metric Halo ULN-8 for whatever he considered to be the eight most important or "starring" inputs, with eight additional channels on the RME OctaMic for supporting instruments. After a few days, the shock wore off and he became limber enough to relax a bit and to actually enjoy the music.
"The music was excellent this year. We even had a Swiss band on stage," laughed Visser. "The ULN-8 worked reliably from the first note to the final chord, and delivered a perfectly transparent 'sound.' That's what impresses me most about the ULN-8. You simply can't hear it. Beyond that, it's light, portable, and reliable. It connects easily to other gear, and it's the greatest converter I've ever used."
As in previous years, Visser even used his Metric Halo software and hardware to deliver a monitor mix when the venue was so cramped that he couldn't fit the small Venice console that he had been provided with. "With my laptop and interfaces, I delivered front-of-house, monitor and recording mixes, all while actually capturing the recording," said Visser. "That's four separate DSP-intensive activities going at once. Latency in any other system would have doomed the monitor mix, but with Metric Halo, the musicians felt no delay at all. As far as they were concerned, everything was analog, even with an appreciable amount of EQ and dynamics processing."
Alliance Ethio-Francaise will release a selection of Visser's recordings for worldwide distribution in the coming year.