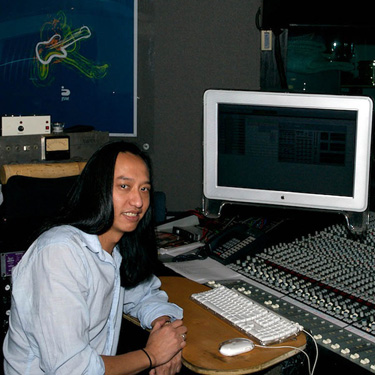 Hoover Le, mix engineer at one of the largest producers of commercial music, in Mix Room A at JSM Music, Inc., New York City finds the processing capabilities of Metric Halo's ChannelStrip reliable, while delivering exactly the sound required with quick recall capabilities.
NEW YORK, NEW YORK – APRIL 2008: Anyone who watches television for any length of time has undoubtedly heard music by JSM Music, Inc. – and as a result, have heard the effects of Metric Halo's ChannelStrip multi-processing plug-in. Composers at JSM Music's production facilities, which occupy 25,000 square-feet on two stories of a building in Manhattan's Chelsea neighborhood, are responsible for the music on some of the highest profile TV commercials, including the very popular Pepsi "Magnetic Attraction" spot featuring Justin Timberlake that aired during the 2008 Super Bowl.
The mix engineers at JSM Music, reputed to be the largest producer of commercial music in the United States, frequently turn to the comprehensive processing capabilities of ChannelStrip. "We don't have that much time to mix because there's such a high volume of music here," explains engineer Hoover Le. "As a result," he says, "we use the 'go-to' equipment that we know will make something sound the way we want it to sound. I find ChannelStrip to be a very good tool."
When pushed for time, ChannelStrip's 120 factory presets offer a good jumping-off point for any mix. Users typically have their favorite presets. "Some of these presets, for the high volume of music we do here, just seem to work every time. For me, it's this one preset, Kick 01," says Le. "I put that on every kick drum and it just sounds great, no matter what the kick drum sounds like. I don't use ChannelStrip on everything, but I know that when I use it it's always going to work – and that's kind of nice."
Mix engineer Tovi Rodriguez, on the other hand, likes to creatively misuse the presets. "I like to use them for vocals all the time, for special effects, for degrading vocal sounds and making them sound weird and unconventional," he shares. "It always gives you a very good starting point for everything. But I try to not get stuck into using the same setting for the same thing all the time, so I experiment. I've had success using the trumpet setting on sax and using drum settings on mixes."
There's plenty to experiment with, since ChannelStrip offers detailed control of 48-bit EQ, delay, expander/gate and compressor functionality. As Rodriguez points out, "It's so versatile. There are so many things to play with. You can turn something on and off and experiment with it and see what else you get."
The JSM Music studio facilities, located on 19th Street at 6th Avenue, comprised of ten writing rooms for staff composers, plus two recording studios, one outfitted with an SSL analog mixing console and the other configured for working 'in the box.' Founder and president Joel Simon, a 2007 honoree of the coveted "Crain's Business 40 Under 40" at age 39, established the company in 1997.
In October 2007 JSM Music announced a strategic partnership with WoozyFly, an online music media company devoted to independent artists, entering into an agreement to represent select artists and introduce them to the advertising community for inclusion in television, radio and multi-media commercials. An online video performance show, "The Set at JSM," was recorded at the studios for posting on WoozyFly.com. "Since we've been doing WoozyFly we've been really utilizing the SSL board more," Le reports. "When I'm mixing through the console I still use ChannelStrip just to get a good starting point. From there, everything else is just easier."
Further, relying on a plug-in rather than outboard processing offers a distinct advantage in JSM Music's application. "Most of our work is in advertising, and with that we need quick recalls and endless revisions, so it's all 'in the box,'" he comments. Having seen Le and Rodriguez use the ChannelStrip plug-in on all their mixes, "Some of the other writers are thinking about converting over. They see how easy it is."