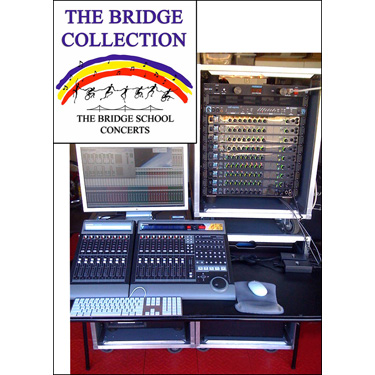 Metric Halo's ULN-8 was chosen by David Lohr, Neil Young's FOH engineer to record the 23rd Bridge School Benefit Concert featuring No Doubt, Sheryl Crow, Jimmy Buffett, and Pegi and Neil Young.
MOUNTAIN VIEW, CALIFORNIA – MARCH 2010: Every year in October, the Bridge School Benefit Concert draws music fans to the massive Shoreline Amphitheatre in Mountain View, California, near San Francisco, to enjoy an A-list lineup of musicians organized by industry icon Neil Young and his wife Pegi. Proceeds benefit The Bridge School, which educates children with severe speech and physical impairments and often relies on expensive assistive communication technology. The 23rd annual concert was held this past October and included performances by No Doubt, Chris Martin of Coldplay, Sheryl Crow, Fleet Foxes, Wolfmother, Gavin Rossdale, Monsters of Folk, Jimmy Buffett, Adam Sandler, and, of course, Pegi and Neil Young. Young's regular FOH and recording engineer, Dave Lohr, was on hand to record the two-day event using ten Metric Halo ULN-8 mic-pre/converters.
Through his audio production company, DML Audio, Lohr has been a long-time user of Metric Halo technology. He recorded the 2007 Crosby, Stills, Nash, and Young Documentary using 64-tracks of beta-unit Metric Halo ULN-8s. He has since added two of the eight-channel interfaces to bring his total track count to eighty, a number that is sufficient for all of his needs.
The setup for this year's Bridge School Benefit Concert was elaborate. Lohr executed a 56-track, 96kHz, 24-bit wave file recording straight to a FireWire drive using the Metric Halo record panel. Simultaneously, the Metric Halo AES outputs fed a Pro Tools rig synched for 96k/24-bit resolution that recorded the same tracks redundantly. If that weren't enough, Lohr used the analog outputs of the seven Metric Halo ULN-8s to provide inputs to a console for rough mixes and a CD reference.
The shortest act this year was just twenty minutes and the longest was thirty-five minutes, with fifteen minute set changes between the ten acts and a finale. Thus, logistics and system reliability were paramount. Lohr had people positioned on stage to perform line checks as the sleds rolled on. Using Metric Halo's advanced monitoring technology, he was able to check the outputs at all three record systems to quickly find solutions for any problems that emerged.
"The principle reason I rely on Metric Halo technology is its sound quality," said Lohr, who has used his ULN-8s for several live and studio recordings. "I've done a lot of tests with the ULN-8's mic pres up against the some of the very best analog pres in existence – Neve, API, and Amex – and I still use those preamps some of the time, but I usually prefer to go with the open, clean sound of the Metric Halo preamps. They have a depth of image that is unclouded. I can hear things like reflections off back walls, which are the sorts of details that other preamps blur over. If I want a particular 'sound' after the fact, I turn to Metric Halo's character feature, which imprints the sonic flavor of particular mic pres on the existing file."
In addition to simply documenting an extraordinary musical event, the files were mixed down to create a "best of" compilation for download from iTunes. Again, the proceeds benefit The Bridge School. The recordings were also synched to video for subsequent release of "best of" videos. Songs can be found by searching the iTunes store for "The Bridge Collection."