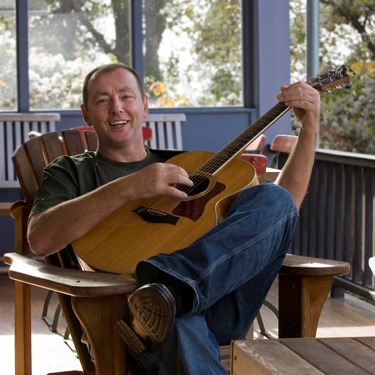 Francis Dunnery (Photo Credit: © 2009 John Edwards/Flying Spot)
HOPEWELL JUNCTION, NEW YORK – OCTOBER 2009: Founder of 1980s English progressive rock sensation, It Bites, Francis Dunnery has maintained a busy schedule of solo work, production, and engineering in the nearly two decades since It Bites dissolved. Regular touring and recording with Robert Plant Lauryn Hill, Ian Brown, Carlos Santana and the creation of his own Aquarian Nation record label to "help support and maintain artistic integrity" have cemented Dunnery's position as a venerated member of the musical intelligencia, in both the UK and America. His recently released album, "There's a Whole New World Out There," is a clever reworking of his favorite material from his early years. Like everything Dunnery has worked on in the past two years, the new album was recorded entirely through a Metric Halo 2882 converter and interface. Metric Halo has a sound that he has never been able to capture with anything else.
A few years ago, Dunnery's naturally bubbling cynicism boiled over with what he perceived to be the pro audio market's ever-greater departure from the true needs of musicians and engineers in the name of profit. He turned to his friend, the head of Columbia University's music department, and asked him for advice on recording equipment that took musicality as its starting point. His friend pointed him to Metric Halo. "The people at Metric Halo were good enough to give me a demo unit, and I was hooked," he said. "The software is flexible and very well thought out, but perhaps more importantly, the hardware and software both sound fantastic and work seamlessly with Pro Tools, Logic and all of the other music software out there. We're in the business of sound, after all!"
The original version of the Metric Halo 2882 was introduced in 2001 as the world's first FireWire interface. It still features eight inputs and eight outputs, all converting at up to 96 kHz with some of the lowest latencies in the industry. With Metric Halo's unique +DSP processing environment, the 2882 is still the only FireWire interface on the market to offer onboard, fully-instantiable DSP processing.
Dunnery has used the Metric Halo 2882 on everything he's worked on since. These include Aquarian Nation acts, Chris Difford's (Squeeze) "I Didn't Get Where I Am" and John & Wayne's "Cumbrian At Heart." In addition, he recorded The Syn (featuring Yes member Chris Squire) for their "Big Sky" release on Umbrello Records.
But he has most recently been invested in "There's A Whole New World Out There." Dunnery explained the concept for the new album. "When I first came on the music scene back in the eighties, I suppose I was considered the new guitar player on the block because mainly because I played everything loud and fast," he laughed. "But as I got older, my guitar sound cleaned up. I used less distortion and more nuance. I think that's a pretty common progression for a maturing guitarist. Anyway, I thought it would be fun to re-record the old eighties material with a present day perspective." He laughs "I guess it's a bit 'midlife crisis,' putting a fat belly and a bald head on the whole thing!"
Consistent with his take on the pro audio industry as a whole, Dunnery is just as impressed with the people at Metric Halo as he is with the sound of their gear. "It's a people's company. They've gone through a lot to make very usable gear, and I get the impression that they're thinking a lot more about music than they are quarterly profit margin. I know they have to think about that too, but it's really a matter of what comes first."