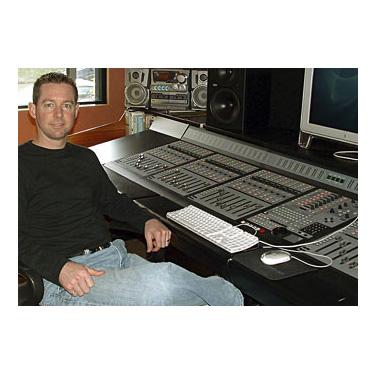 Billy Decker, one of Nashville's hottest country music engineers, has been using Metric Halo's ChannelStrip for his main EQ for over seven years.
NASHVILLE, TENNESSEE: Ask Billy Decker, an in-demand mixing and recording engineer working with some of the hottest country music acts in Nashville, what his favorite piece of studio technology is from the last several years and he'll be quick to single out Metric Halo's ChannelStrip plug-in. "I can't mix without it," he exclaims.
"ChannelStrip is my main EQ," explains Decker, a graduate of the Full Sail recording school who has been working in Music City since 1994. "Most EQs have either three or four bands. ChannelStrip has six, so I can literally get in there and use two of them as filters, if I need to, and the other four for EQ. A lot of times I'll use all six of them. Plus, it's got the built-in compressor with the auto-gain function, which emulates the SSL compressor. I also like the presets that come with it. It's really user-friendly.
"I mix 100 percent in-the-box, just for the recall ability and the ease," reports Decker. "Right around '98 or '99 I had a chance to produce an act for MCA Records, and I took my advance money and bought a little Pro Tools rig. A friend of mine showed me ChannelStrip. The reason I loved it was that you could emulate a bunch of different EQs.
Another reason Decker likes ChannelStrip so much, he says, is that the plug-in is so efficient that it has little impact on the horsepower of the host DAW computer. "I can put ChannelStrip across every channel. It's on every single instrument. Here in Nashville I do predominantly country music, so you've got a drum kit, bass, acoustic guitars, electric guitar, piano, fiddle and steel, then, sometimes, a dobro or banjo, but that's it, other than the voice and the backgrounds. So they're not huge sessions as far as track count. But I've got ChannelStrip running across the board, at the top of the inserts on just about everything."
Some of those Nashville sessions most recently included the winner of Nashville Star, Chris Young on RCA. "I've got a song that I mixed for Rodney Atkins (Curb). He's at #16 on the country chart. I just mixed Sammy Kershaw's record for Category Five, and a Gary Nichols record on MCA. I'm currently working on Carolyn Dawn Johnson's record, for a Canadian release. I've got Mark Wills' new record on Equity coming up. And I mixed Trace Adkins' record and used Channel Strip all through that. I mixed eight sides on that album."
Decker has also been thrilled with Metric Halo's service support, he says. "They're fantastic people to work with. Any time I have a problem I can call them and I can get somebody on the phone, as opposed to other software companies. If I communicate with them by e-mail I get a reply in probably 30 minutes. And they're really open to suggestions. I have a pretty good relationship going with Matthew Nelson there now."
It seems Decker is a true fan: "I literally can't say enough good things about Metric Halo, and I get nothing free from them. I bought ChannelStrip and will continue to pay for the product, so I'm not a paid endorsee. I put my money where my mouth is."