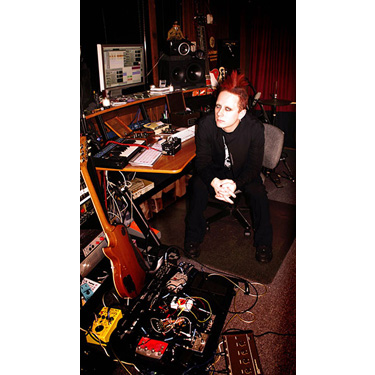 Tim Skold, Marilyn Manson's guitar player/engineer/producer avoids production mayhem with Metric Halo's ChannelStrip.
LOS ANGELES, CALIFORNIA: Tim Skold is not unique in his reliance on Metric Halo's ChannelStrip plug-in to "tie up" the loose ends of Marilyn Manson's productions - there are many, many users who swear by the all-in-one mixing tool - but he does hold several unprecedented distinctions. Brought in as producer for the band's 2003 studio release,"The Golden Age of Grotesque" (#1 Billboard Album Chart), additionally contributing bass, guitar, synthesizer and programming, he was asked to stay with the band permanently as the bass player. Skold is the first band member to not only use his real name, but also share production credits with the bandleader.
"I don't think I have a single session where I don't have ChannelStrip up," reveals Skold, who has been using the integrated EQ, compressor and gate bundle for nearly a decade. An engineer, producer and multi-instrumentalist who relocated from his native Sweden to Los Angeles in the late 1980s, Skold admires ChannelStrip for operating simply and efficiently. "It doesn't have animations of glowing tubes and fancy VU meters that have no relation to the music whatsoever. It does what it does, it does it well, that is why I like it. It's a lifesaver."
"Right now I'm very much involved with a new Marilyn Manson record. That's been the focus for a while. I'm knee-deep in a new record here - twenty or thirty songs into it," he reports.
"Marilyn Manson is 'a unique situation and a unique band'," acknowledges Skold, who says of the new album, the first studio release since "Golden Age," "It's hard to say upfront how and where things are getting done, because it's very liquid and always subject to change, but this keeps it exciting. Because of the mayhem, it's really important that I have ChannelStrip to rely on and to bail me out. It isn't a flashy, goofy, hype, new plug-in, but I don't want any of that. I want control of the sound, and that's what ChannelStrip gives me."
Skold confides that, like any engineer worth his salt, he tries not to use ChannelStrip as a crutch, or any plug-in for that matter. "I try to be good about what I record, so I use it as a backup. I try not to slap a plug-in on everything unless I really need it. Maybe that's just from having been around computers a long time. I still think about conserving horsepower."
ChannelStrip has become a useful tool within the band's workflow, he continues, and has also led to some fruitful experimentation. "One of my favorite features is that I can pop it on a track and pass it to one of the other guys in the band, and they can doodle around, sometimes without necessarily knowing much about what EQ is and what it does. Even just messing around with the pretty colors, and going all 'crayon' about it, will at times make for some really creative settings. Taking that misappropriation of EQ even further, I'll use those 'crayon' presets and slap them on random other things as an experiment. You can get some really great stuff from doing things the so called wrong way."
He also very rarely saves settings, he says, "Because I don't want things to become stagnant. Especially with EQ, it's so subject to what's on the track. I'd rather start from scratch." But he did send Metric Halo some presets that happened to be saved during the last studio album. "But the names had no relation to the sound at all," he laughs. "Then again, it's an EQ setting, so how do you describe it? But these were names that pertained to the songs and the story of the song. So I found one called 'piano on fire', and another called 'what's that logo on your saxophone' for example."
The new Marilyn Manson album is being worked on in various private studios, with Skold wielding his multi-instrumental abilities in his role as producer. "I just like to do things and get things done. I provide that threat to all the other players: If you don't play it really well, right now, I'll just play it for you! That's my current method of producing, full on Nazi. I'm joking. Being able to get around on several instruments allows me to relate, hopefully I can give some creative input along the way."
It has been rumored that the new album from the band, as of yet untitled, is scheduled for release in 2006 by Interscope. More info will be available by visiting MarilynManson.com.