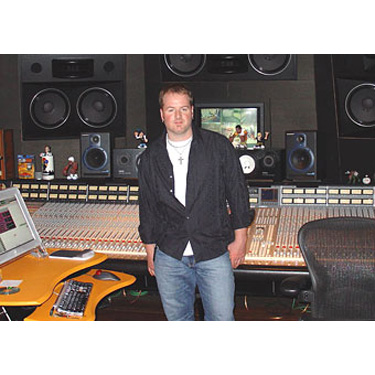 John Horesco favors Metric Halo's ChannelStrip as his mixing console.
ATLANTA, GEORGIA: It was the limited horsepower of the digital audio workstation that he was using at the time that first led Atlanta-based independent studio engineer John Horesco to investigate Metric Halo's console-style audio processing plug-in, ChannelStrip. Now, just a few years later, Horesco finds that the plug-in has become such an essential part of his setup and he is doing so much 'in the box' that he hardly ever uses a mixing console.
"Our large format console is pretty much obsolete. In fact, we're even thinking of getting rid of it," says Horesco of the audio setup at SouthSide, the facility owned by super-producer Jermaine Dupri. Horesco, who frequently works in collaboration with Dupri's longtime mixer, Phil Tan, has used ChannelStrip on a string of platinum-selling projects by Usher, Mariah Carey, Whitney Houston and Bow Wow. His credits also include Nelly, 3LW, Run DMC, TLC, Sean 'Diddy' Combs, Pink, Janet Jackson, OutKast, Ron Isley, Jamie Foxx, Lionel Richie and L.L. Cool J.
But it was while tracking with Atlanta rockers, Collective Soul, a few years ago that Horesco first encountered the powerful ChannelStrip plug-in, which combines EQ, a compressor, and a gate into an easy-to-use interface. "I knew of Metric Halo, because I'd seen the interface boxes," he recalls. "I first started really getting into ChannelStrip when we were doing live drums. When you have 12 to 16 tracks of drums, you need EQs, compressors and gates. As separate plug-ins they eat up a lot of processing power."
He elaborates, "Originally I was working on a TDM system. It didn't have a lot of power, but we were trying to do bigger mixes. You start getting into some plug-in-intensive stuff and you start running out of power. So I started messing with ChannelStrip when I was tracking live drums for the Collective Soul guys, doing the rough mixes and trying to get the drums tightened up."
Horesco quickly discovered ChannelStrip's power. "It's an all-in-one unit and was super, super easy to use. And it sounded good. It saved a lot of DSP, which allowed me to use bigger reverbs and other plug-ins to add a little more space to the tracks."
These days, the Metric Halo plug-in is not limited to the drum tracks when Horesco is tracking into the Pro Tools|HD rig. "I use them on vocals. I have presets for generic vocals with a high-pass filter at 120 or 150Hz, just to roll that off, and the compressor set for a really general level. I'll throw that on a buss, or on individual vocals in the middle of tracking. Then, if the vocalist asks for something, like a 'telephone' EQ, I know it's there and I can quickly make the changes. It's super convenient and does what it's supposed to do."
Keeping everything inside the workstation suits the typical workflow of the projects on which he's working, according to Horesco. For one thing, ChannelStrip has eliminated time-consuming recalls of the mixing console. "The way things go in the whole hip-hop, urban and R&B market, we keep making changes and little tweaks here and there. You may start a mix then the client changes things over the next couple of weeks. It's almost impossible to keep a mix up for three weeks in a traditional studio. So we track and mix in Pro Tools. That's pretty much how we do it."
Horesco believes he may even have been responsible for turning Tan onto ChannelStrip. "Phil has been mixing for Jermaine for about 12 years and was my mentor," he says. "I do most of the tracking and a lot of rough mixes." Whether working at SouthSide or at other studios in New York or Los Angeles, both Horesco and Tan make sure ChannelStrip is available. "ChannelStrip allows me to still work on the mix while I'm recording without ever stopping to insert another compressor, EQ or gate. It's quick, it's easy and, best of all, it sounds great. And a lot of it makes it to the final mix, whether I'm doing it or Phil."