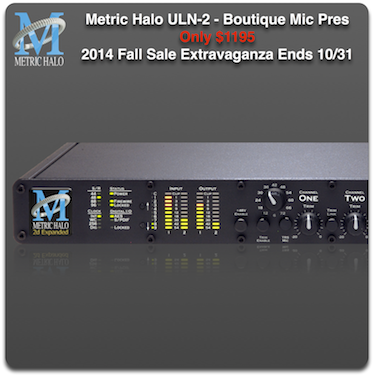 In the market for a Stereo Mic Pre?
How about 2 channels of boutique ultra-low-noise Mic Pre for only $1195? Or a stereo transformer-coupled mic pre for only $1795?
Metric Halo has your answer: the ULN-2. At these prices, we're including the 2 ADCs, 4 DACs, AES/SPDIF/ADAT/DSP and computer interface for FREE! ...Until 10/31/2014, that is.
Key Features:
Two Boutique Quality Ultra Low Noise Mic Pres
Monitoring section
Headphone Amp
4 channels of DAC
2 channels of ADC
AES/SPDIF/ADAT/TOSLINK interfacing
Standalone Operation
Firewire Computer Interface
DC Powerable
Legendary v.5 Mixer with Plugins
Option: Add over a hundred ultra-low-latency plugins for only $400
Option: Add Jensen transformer coupling for both Mic Pre Channels for only $600
This price WON'T LAST. Sale ends 10/31/2014.
Metric Halo products are available from our authorized dealers or directly from Metric Halo:
Metric Halo Dealers
Metric Halo Direct
Contact us for details!