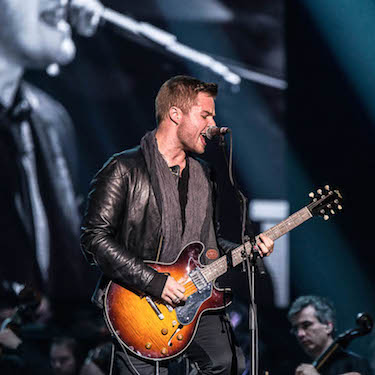 (PHOTO CREDIT: © 2016 Dream-Team Pictures)
ST. PETERSBURG, FLORIDA: Billy Norris got his start in the music industry playing the kind of killer blues guitar that musicians and fans in the Tampa Bay area took notice of. His move to New York City to study jazz bass at the Manhattan School of Music in 2006 reflects the tremendous breadth and depth of his musical interests and aptitude. There, he met Platinum-selling pop singer-songwriter Gavin DeGraw, who hired him to play lead guitar on tour. It didn't take long for DeGraw to realize that Norris had the right kind of head to excel as the live show's musical director. Norris moved back to home base (St. Petersburg, Florida) where he continues to serve as DeGraw's musical director and lead guitarist from a comfortably-appointed home studio. The time and security of his position have allowed Norris to branch out, writing and producing for other musicians, television, and movies.
"I'm a musician first, a writer second, and a producer/engineer only third," Norris said. "I haven't been traditionally educated in the right ways or wrong ways to do audio engineering; instead, I've watched what other people are doing. I try to assimilate the most successful strategies. We were working with the producer and writer Martin Johnson [Taylor Swift, Avril Lavigne, Boys Like Girls] in 2014 on Gavin's 'You Got Me' single, and the session had something like 150 tracks. Martin was using Metric Halo ChannelStrip on almost every single track! I liked the sound he was getting, and that kind of processor efficiency certainly caught my attention."
One of the challenges that Norris faces in his role as musical director for DeGraw is transparently combining the fullness of the recorded versions of his songs with the energy of the five-piece band he tours with. Norris pulls stems from the recorded versions of the songs that he combines with a click track and a cue track for live performances. "The problem is that for the record, the whole is often greater than the sum of its parts," he said. "When I start to pull tracks apart for use with our live stems, they're often missing the sparkle and punch that you might expect them to have, especially in a live context. Taking a cue from Martin, I started running everything through Metric Halo ChannelStrip."
"I like that it glues everything together sonically," he continued, "like an analog console. It's hard to put into words, but it makes things fit that didn't fit, and it gives everything a unified character that sounds solid and detailed. That's really helpful for blending with live instruments. It's also super quick, which is how I like to work. The interface is easy to understand and use. I've made some basic presets that I can just slap onto tracks for different purposes. I can keep moving, always. Finally, I really like the company behind the product. Metric Halo is a small company that caters to professionals who are using their products at a high level. You know they're passionate about making a solid product." Norris has made a habit of aligning with such companies: he plays Collings Guitars, a small but similarly-principled outfit from Austin, Texas.
The live playback rig that Norris manages for DeGraw consists of two redundant Mac Minis "loaded to the gills." Digital Performer's set list function makes it easy to move songs around from night-to-night, and it plays back three stereo stems, along with a click and a cue. Through a switcher, they share a screen, a keyboard, and a mouse. A MOTU 828x converter produces the output, with a Radial switcher to switch between the two computers in the extremely rare event that the main computer goes down. Although he prints his ChannelStrip processing to the three stereo stems, he also runs a live instance of ChannelStrip on their outputs to add some brick wall limiting that buys him a few extra decibels.
"Sometimes Metric Halo ChannelStrip makes it feel like I'm cheating," he said. "I'm very much into the idea that we never cut corners – as soon as a corner gets cut, you can't get it back! So it's sometimes strange to pop ChannelStrip onto a track, tweak a preset, and move on. Can it be that easy? But it sounds so good! It makes me look good! And the integration of Metric Halo's SpectraFoo sound analysis software also makes it seem too easy. Like the other day, I was recording acoustic guitar in my home studio. The walls are thin, and a lawnmower drone found its way onto an otherwise fantastic take. I used ChannelStrip's real-time analyzer to find the lawnmower's drone visually. That made it super simple to find the narrow frequency that would remove it."
Spurred by his success with Metric Halo ChannelStrip, Norris is now exploring Metric Halo's full Production Bundle, which includes HaloVerb, Dirty Delay, Character (signal modeling), TransientControl, and various multi band dynamics processors.
---
As seen in ProSoundWeb and MixOnline.
Article Updated July 26, 2016