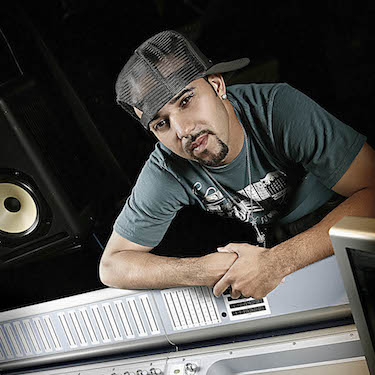 LOS ANGELES, CALIFORNIA: Although still young and with more career ahead of him than behind him, prolific producer/engineer/songwriter and five-time Grammy-winner Devine Evans has seen and heard a lot. A long-time user of Metric Halo's ChannelStrip plug-in, Evans entered the world of music as a musician and songwriter under the management of Lisa "Left Eye" Lopes, a member the 1990s hip-hop and R&B group TLC (the best-selling American girl group of all time). He and his band were signed to Universal in the mid-1990s and were recording their debut (which, for better or for worse, never debuted due to lawyerly machinations inside Universal), when Evans made a connection that would happily alter the course of his career. An eight-year old with a stunning voice and an old soul served as go-between.
"We were recording in Studio B of Dallas Austin's place, which was definitely the place to be back then," explained Evans. "During a break, I met an eight-year old playing Pac-Man in the lobby, and he started telling me how much music has changed – how cool it used to be. He was eight, but he was talking like an 80-year old who had seen it all! He said, 'my manager is over there, do you want to meet her?' Why not? She turned out to be Joyce Irby, the former bass player of the 1980s band Klymaxx. That introduction changed everything!" Turns out, the eight-year old was Lloyd Polite, Jr., better known these days as just Lloyd!
At her request, Evans played Irby the only song that was finished enough to be worth presenting. "It was a super depressing song," Evans laughed. "But it was the only one I had. I was so nervous – the song was so not radio! It was just a personal thing. But when the song was done and she turned around, there were tears in her eyes! She said she wanted that same emotion – could I write other songs like it? At the time, I was pretty miserable, so I was like, 'yeah, you want depressing? I'm your guy! I can write depressing music like crazy!'"
He continued, "Joyce took my life to a whole new level. I started placing songs with B2K and Destiny's Child and made the connections that are responsible for a lot of my work, even today. Importantly, working for Joyce elevated everything I did. I killed myself to make everything perfect because I always wanted to impress her." Those connections and Evans' intuitive skill for crafting fine-pointed emotions at every stage in the music production process have translated (so far) to five Grammy wins for work with TLC, Outkast, Mary J Blige, Lady Gaga, and Pharrell Williams."
It was during the eight years that he worked closely with Mary J Blige that Evans expanded his skills in songwriting and production to engineering. These days, he's working on a massive project with Queen Latifah and co-producer Ray Angry that includes music for film and TV, as well as four albums in different genres: jazz, house, love songs, and hip-hop. The project involves collaborations with Mary J Blige, Lenny Kravitz, the Clark Sisters gospel group, Missy Elliott, Janelle Monáe, and on and on. "So many beautifully-talented people," as Evans sums it up.
"I can't remember how I was introduced to Metric Halo ChannelStrip, but I know that I've always had quick and reliable success using it," he said. "It's a really fast path to the right destination. My sessions will typically have thirty to forty ChannelStrip instances, especially on the vocals and the drums. I've worked with some of the best mix engineers in the business, including Phil Tan, Dave Pensado, and Jason Joshua. They've all complimented me on the clarity of my vocals. For example, when I gave Rihanna sessions to Phil, he always kept my ChannelStrip settings in place. He tweaked things after that point, but ChannelStrip gave him a solid foundation."
Evans cited the responsiveness of Metric Halo ChannelStrip as one of its greatest assets. "With most other plug-ins, you have to totally assassinate the track to get a perceptible result, like 8dB cuts or boosts. But ChannelStrip feels more like hardware. You turn the knob a little bit and you hear the effect; 1 or 2dB usually does the trick. And overall the sound is more musical. I can pull out the 225Hz mud from a vocal without losing the low-end body."
True to his songwriting roots, Evans' only complaint about the state of the music industry these days is a lack of originality and the priority of celebrity over musical content. "I was lucky to be born when I was and to experience a lot of authentic, emotional music as a kid," he said. "These days, there is a tendency for up-and-coming artists to invest way more time on their imaging, marketing, and social media than on their art form. I recently saw a video on social media of a song's creation – the song wasn't even out! Now there's no surprise! The adrenaline rush of stardom is the primary goal, but it really shouldn't be."
ABOUT METRIC HALO
Based on the Gulf Coast of Florida, Metric Halo provides the world with award-winning software and hardware recording, processing, metering and analysis solutions.
www.devineevans.com
www.thediaryofasongwriter.com
---
As seen in ProSoundWeb and MixOnline.
Article Updated July 26, 2016