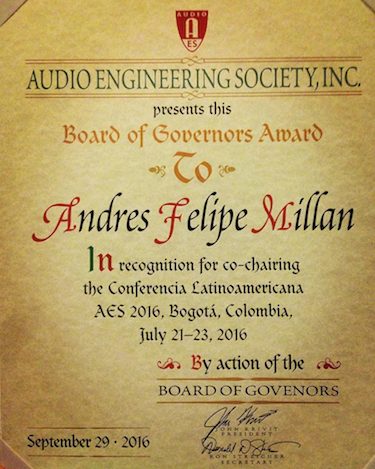 LOS ANGELES, CALIFORNIA: Metric Halo congratulates Andrés Felipe Millán Silva, on receiving the distinguished Audio Engineering Society 2016 Board of Governors Award during the AES Los Angeles 2016 | 141st AES Convention (September 29 - October 2, 2016). This award recognizes Andrés for his work co-chairing the AES Latin American Conference in Bogota, Colombia July 21-23, 2016.
Please comment via Facebook, and join us as we congratulate Andrés on receiving this honor!
Andrés Millán is a recording, mixing, live sound and electroacoustic systems engineer. He has worked in Teatro de Bellas Artes in Bogota in sound, lighting and machinery technical coordination. He serves as the director for both Diffusion Magazine – the most popular sound engineering website in Latin America – and Boutique Pro Audio – a high-end pro audio representation and distribution firm with service in Colombia and neighboring countries (and Metric Halo's premier dealer for Colombia).
He has worked with artists such as Meteor, Nonó and IndiviDúo, among others. He publishes articles and reports for publications such as Ingenium, Diffusion Magazine, La Casetería and AES Journal. He is president of AES Colombia and has led professional and academic events with Wes Dooley, John Storyk and Fab Dupont.
Questions about Metric Halo's product line, pricing or availability in Colombia? Please contact Andrés at Boutique Pro Audio to learn more, or to schedule a demo.