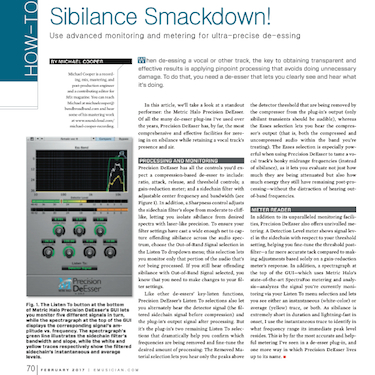 In this article, we'll take a look at a standout performer: the Metric Halo Precision DeEsser. Of all the many de-esser plug-ins I've used over the years, Precision DeEsser has, by far, the most comprehensive and effective facilities for zeroing in on sibilance while retaining a vocal track's presence and air.
- Michael Cooper
Electronic Musician Magazine
Feb. 2017 Edition
ONLINE NOW! Please click the link to read the full article: Electronic Musician Magazine Sibilance Smackdown!
Or, buy a copy of Electronic Musician Magazine (February 2017 Edition), on newsstands NOW.
Please contact Metric Halo or your local Metric Halo Authorized Reseller to learn more about Metric Halo plugins and MH's complete legendary product line.
About the Author:
Michael Cooper is a recording, mix, mastering, and post-production engineer and a contributing editor for Mix magazine. You can reach Michael at This e-mail address is being protected from spambots. You need JavaScript enabled to view it and hear some of his mastering work at www.soundcloud.com/michael-cooper-recording.
About Electronic Musician Magazine:
Electronic Musician is not merely a recording magazine but covers all aspects of music production—performance, recording, and technology, from studio to stage. EM finds the top artists and producers – as well as all the musical trendsetters – and gets them to advise, mentor, and detail their craft. Each issue gives you the tools you need to make better music, from production to performance. Plus tips and techniques, gear reviews, and insights from today's top artists.
---
Article Updated January 23, 2017