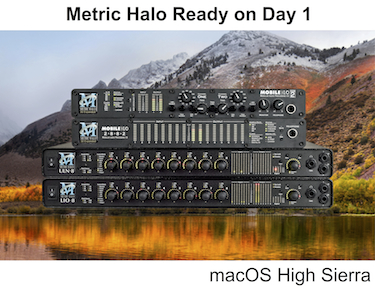 SAFETY HARBOR, FLORIDA – SEPTEMBER 25, 2017: BJ Buchalter, VP Research and Development, announces Metric Halo's macOS 10.13 High Sierra compatibility to the MIO Users Group. Please see BJ's e-mail below, for details:
Hi Folks,
I just wanted to let you know that we have tested Metric Halo software on High Sierra (10.13), and everything appears to be compatible. If you choose to update to High Sierra, please see the following notes to ensure that your upgrade goes smoothly. In addition, please check with the other vendors that you rely on to ensure that they have qualified High Sierra before you update.
AU Plugins
----------
On macOS 10.13, if you do a fresh install of the AU plugins, you will have to reboot before they will show up in your system.
MIO Driver
----------
As many of you have experienced, after macOS 10.8, Apple introduced a bug in FireWire that could lead to hangs or a loss of audio via the MIO after a certain number of start/stop cycles. We have published a terminal command work-around for that problem that worked for macOS 10.8 - macOS 10.12. As of macOS 10.13, that work-around is no longer functional.
However, we have (finally) been able to devise a code-level work around for this bug, which solves this problem for all OS versions from 10.8 forward (including 10.13). This fix is available in driver version 5.4d243 and newer (this driver is compatible with macOS 10.6.8 and newer). Driver 5.4d243 is available for download in the MIO 5.6.10 package available from:
http://mhsecure.com/metric_halo/support/downloads.html
With this version of the driver the command-line work-around is no longer required. If have applied the boot-arg work-around in the past, and you want to remove it, you may do so after you have updated to the new driver. The easiest way to remove the boot-arg is to clear the PRAM by holding down the command-option-p-r while booting your Mac - keep holding them down until the Mac reboots.
We recommend that everyone update to v.5.6.10.
Finally, Apple has added additional security features to macOS 10.13 that require additional steps to activate third-party drivers (including the MIO Driver) when installing a driver for the first time on High Sierra; this should only effect you if you do a clean install (rather than upgrading a system that already has the MIO Driver installed). We have prepared a FAQ to describe the new steps required:
macOS High Sierra Metric Halo FAQ
Best regards,
B.J. Buchalter
Metric Halo
http://www.mhlabs.com