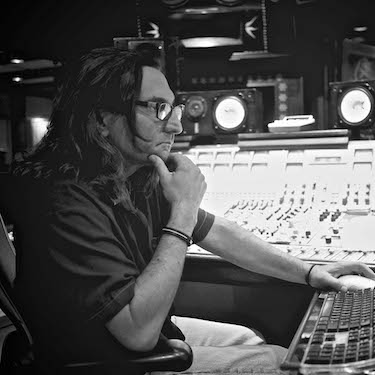 LOS ANGELES, CALIFORNIA: Bill Malina has been making big decisions on heavyweight recordings for a long time now. His endless list of credits cuts across genres and includes classics like Santana and Ringo Starr; rappers like Pitbull and Flo Rida; and plenty of deep pop, from the Backstreet Boys and Justin Bieber to Anastacia and Katy Perry. He routinely works with Robin Thicke (and the acts Thicke works with) and is perhaps best known for his regular engagements with pop icon Lady Gaga. After his previous go-to channel strip plug-in went fully native, crashing his workflow, Malina sought out a replacement and came up with something that not only runs on his Pro Tools HDX card, but that sounds better and uses miniscule DSP resources: Metric Halo ChannelStrip.
"When my old go-to plug-in switched to only native, it really messed up the way I worked," Malina said. "I do a lot of tracking, and I like to put a channel strip in during the recording process. There were a couple of issues. First, native plug-ins are bypassed by default when a channel is record-enabled. There's a work-around; You can put a TDM in front, which will cause native plug-ins to be active. But that introduces an unusable latency." Since Metric Halo ChannelStrip operates as AU, VST, or AAX (Pro Tools 10, 11, & 12 DSP or native) and 32- or 64-bit, Malina was able to insert it into his record chain on the Pro Tools DSP. "Now I just have ChannelStrip working on the card with no latency, and it's one less thing I have to think about," he said.
In one of his first uses of Metric Halo ChannelStrip, Malina helped prepare Lady Gaga's 2017 Super Bowl performance (for which he was nominated for an Emmy). Since then, he's used it on projects with Robin Thicke. "Robin likes to work really fast, so it's good I can work really fast with ChannelStrip," he added. He used it to record projects with producer Ricky Reed and Joe Jonas' band DNCE. Once Metric Halo starts out on a channel, it tends to stay there, Malina reported, and because it uses so few DSP resources, he can have over one-hundred instances spread across a big project without so much as a hiccup.
"Metric Halo ChannelStrip is a great-sounding plug-in, and it's now my go-to," Malina said. "I basically use it for my console; it's my default equalizer and compressor. If I want something more specific, I'll reach for it, but it's basically like I've got an SSL console at the ready." Apart from the sound itself, Malina appreciates the graphic displays, which not only indicate the EQ curves and compression thresholds (very accurately!) but also shows a real-time analysis of the audio's frequency spectrum. "That makes it easy to work fast," he said. "I turn the frequency analyzer on and then I just leave it on."
---
As seen in MixOnline.
Article Updated November 26, 2017