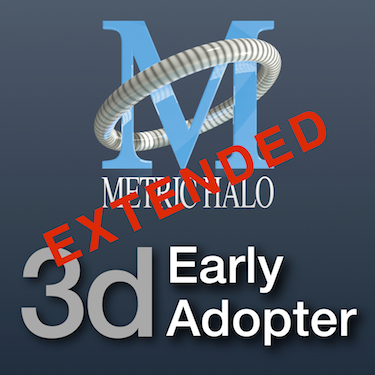 Upgrade to 3d by February 15, 2020, for up to 50% Off MSRP on new units and MH EdgeCards as a Metric Halo 3d Early Adopter!
SAFETY HARBOR, FL (USA) – January 2020: Metric Halo has established an elite group of Metric Halo users who have participated in the Metric Halo 3d Early Access/Public Software Beta: Metric Halo 3d Early Adopters.
"We are extremely grateful for the contributions and feedback we have received from our 3d Early Access participants who have helped to make 3d a resounding success!" said, BJ Buchalter, Metric Halo's VP Research and Development. "By taking a chance on the 3d Upgrade before we called it "Done," these users have earned a special status among Metric Halo customers. They are our 3d Early Adopters."
To show their appreciation, Metric Halo is inviting 3d Early Adopters to add even more channels to their system with an exclusive 3d Early Adopter Additional Unit and EdgeCard Offer (save up to 50% Off MSRP)! Click Here for complete pricing and offer details.
3d Early Adopters can add the Metric Halo flagship, the 2020 TEC Nominated ULN-8 3d, to their system for only $1995 each; that's more than 50% off the MSRP.
Other Metric Halo 3d hardware products are also available at Early Adopter special pricing; check out the 3d Early Adopter Additional Unit and EdgeCard offer page for more details.
"Everyone who does audio always needs more channels and more processing power. That's why one of our primary design goals for 3d was to make a system that is truly scalable. Expanding your system's capabilities is simple; just add more units and automatically get more integrated I/O and processing." said BJ Buchalter.
Foresee a need for more channels coming up in the future? Now would be a great time to expand your system at a significant discount!
Not a 3d Early Adopter? The 3d General/Final Release is fast approaching and your opportunity to become a 3d Early Adopter ends soon.
Put yourself at the forefront of audio innovation: Become a 3d Early Adopter today!
Here's How:
Join this elite group of Metric Halo Users by purchasing your first 3d Unit or a 3d Upgrade by February 15, 2020.

Then, enjoy 3d Early Adopter discounts on new 3d units or MH EdgeCards, for the duration of the 3d Early Adopter discount program!
Questions?
Please contact Metric Halo | This e-mail address is being protected from spambots. You need JavaScript enabled to view it | +1 (727) 725-9555, x208, or, your local Metric Halo Distributor* to learn more.
*The Metric Halo 3d Early Adopter Appreciation Program is offered through Metric Halo Distribution. These deals may also be available through your favorite Metric Halo Authorized Dealer - ask your dealer to contact MH Sales ( This e-mail address is being protected from spambots. You need JavaScript enabled to view it ) for a custom quote as needed.

Metric Halo Authorized Dealers