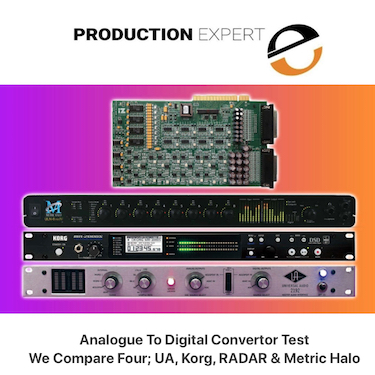 Posted by Production Expert
"...the Metric Halo [ULN-8 mkIV] was the clear winner, the Metric Halo was by far the closest to listening just off tape versus converted."
Click Here to read the article (including a link to the original podcast discussion).
---
The Listeners
William Wittman is a Grammy Award-winning independent Producer/Engineer/Musician/Songwriter based in New York whose credits include the multi-platinum debuts from Cyndi Lauper, Joan Osborne, the Hooters, and The Outfield.
Steve DeMott is a Connecticut based audio engineer, producer and multi-instrumentalist. He studied Songwriting and Music Production & Engineering at Berklee College of Music in Boston, MA & has been recording professionally for over 20 years. He now manages a commercial studio where they produce, record, edit, mix & master music & audio projects for artists & companies.
---
About Production Expert
https://www.pro-tools-expert.com
In the last decade the Production Expert blogs have become some of the most visited music and post production websites on the web. It began with Pro Tools Expert, which has become the number one independent Pro Tools user site in the world and expanded to cover other popular DAWs like Logic Pro and Studio One. All the Expert sites are unique in offering tips, tricks, online video tutorials and news in one single source. Our fans range from beginners right through to Grammy winning producers.
A Team Of Experts
The Production Expert team are first and foremost professionals working daily in music and post-production. Our content is informed by a team who are practitioners, meaning our tutorials are devised to help those working in real-world scenarios.