Metric Halo re-introduces mkIV with discounts on mkIV Units, Upgrades and 3d Cards!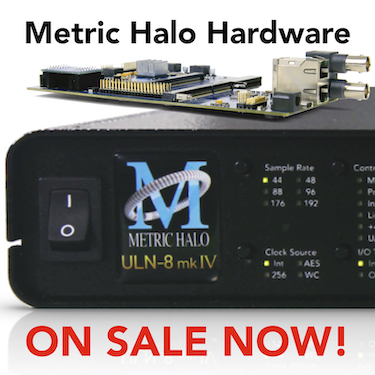 SAFETY HARBOR, FLORIDA – AUGUST 22, 2023: Metric Halo Introduces mkIV… again!
Now that we are back in full production on Metric Halo hardware, we are celebrating the availability of mkIV and 3d Upgrades with special pricing for a limited time.
Soul satisfying sound quality
We took the industry-leading transparency and musicality of the original ULN-8 converter and tuned it until we arrived at a truly gorgeous blend of the best aspects of the finest analog gear with none of the downsides.
The mkIV converters sound beautiful and real, and give users the classic analog experience with all the benefits of digital control and recall.
While there are other great converters, great preamps, and great processors, there is nothing else on the market that is great at everything at the same time, all the time, while also providing the best computer interface and the most powerful, best-sounding monitor controller on the planet.
All inclusive…
Metric Halo interfaces and 3d Upgrades provide a complete solution with all the features bundled in.
In addition to the core converter, digital and modern computer interfacing features (via Ethernet and USB) you would expect of any interface, mkIV interfaces also include:
Unlike competing devices, all of this is included as part of the purchase price. You won't have to pay extra to add software-based capabilities to your system after your initial purchase.
Available now, at a great price
In the 20+ years that we have been making audio hardware, we have never encountered supply chain issues like the ones that occurred over the last two years.
If you are:
Already an mkIV user and ready to expand your system

A ULN-8/3d or LIO-8/3d user and are ready to upgrade to mkIV

Ready to make the the quantum leap from an earlier version of MIO (any earlier version) to 3d

Not using MH and have that nagging feeling that something is getting lost between the sound you hear live vs. what you hear from your DAW


(Pro tip: it's probably your interface…
now is the perfect time to expand, upgrade or discover the glory of mkIV and 3d!
Additional multi-unit discounts available.
Complete specs and system requirements available via the links in the table above.
In stock and available now via the links above and through the world-wide network of Metric Halo dealers and distributors.