The original portable recording interface.

The 2882 - Available now with Early Access 3d!
The Original and Still the Best
Originally released in 2001, the Mobile I/O 2882 truly is the first digitally controlled FireWire interface designed specifically for the Macintosh.
The Granddaddy of them all, the 2882 just keeps getting better. A seminal piece of gear, the feature set of the 2882 represents a list of firsts in the industry. The 2882 was the first Mac-only FireWire interface on the market and was the first bus-powerable FireWire interface ever — 9 years and counting! It is also the first (and only) FireWire interface to offer onboard fully instantiable DSP processing with our unique +DSP processing environment. The first 96k FireWire interface, and the first to feature digitally controlled analog stages, the 2882 has inspired an entire genre of gear.
Take a look at some other products on the market and you are sure to find numerous features and approaches originally invented by Metric Halo. As they say, imitation is the sincerest form of flattery, and as we look around the now-crowded FireWire interface market, we're happy to say that we're truly flattered!
Now, with the introduction of the 2882 Expanded, with integrated 2d Card, the 2882 jumps ahead of its competition again.

 Key Features
8 Mic/Line/Instrument analog inputs
8 analog outputs on balanced TRS connectors
24/96k converters on all channels
8 channels of ADAT I/O (switchable to TOSLINK)
Headphone amp with front panel mute/dim
Full front-panel metering
Remote level control on all channels
AES-S/PDIF Digital I/O with selectable SRC
v.5 Configurable mixer for near-zero latency mixing and routing
Metric Halo's unique instantiable +DSP processing
DC power system for wall, FireWire bus, and battery operation world-wide
Total recall with MIO Console
OS X drivers with multi-box support
Compact, convenient, and the best value in pro-audio today!
At Home in Any Situation
2882 Expanded is the perfect tool for capturing audio wherever inspiration hits, in the studio or on the road. Well suited to any recording situation, you can record and edit on the road, in the hotel, on the airplane, or wherever inspiration hits. Use 3 2882s chained together for 24 tracks of live concert recording with processing on all channels in 3 rack spaces. Location sound engineers can now capture the moment — anywhere, anytime.
When you're done recording, use the 2882 in the studio as an extremely high quality audio interface to transfer your tracks into a DAW. You'll be amazed at the sound of this little box! And weighing only 5 pounds, and about the size of a laptop, you can be the first one out of the gig, with no hassle, just throw the Mobile I/O into your computer bag, and you're done!
The 2882's pristine inputs and outputs, coupled with Metric Halo's exclusive Character processing, provide flexibility and sound quality unavailable on any other interface. You can transition from a wire-with-gain to a gooey tube pre with one click of the mouse, and every input can have the right character for the material you are recording.
The 2882 Expanded is the only unit in its class with an on-board processing engine that supports fully instantiable processing, allowing you to use Metric Halo's world-renowned signal processing effects without sacrificing your computer's processing power or introducing any additional latency in your monitor path. From MIOStrip to HaloVerb, the 2882 Expanded comes with all the basic production processing you need. And remember, this one rack space audio interface has the ability to run entirely from the FireWire bus of a laptop computer or from any DC power source (9V-30V), making it truly and completely mobile.
Organically Scalable
A unique feature of the Mobile I/O system is that MIO's work well individually or as a group. Mix and match 2882 and ULN-2 units to create a system that meets your needs for track count and preamp power. Adding a unit to the system organically increases the DSP power of the system, so that your DSP always scales with your I/O. Break your system up for small gigs when playing out or add the units of your mates to build a huge system when required. By standardizing on Mobile I/O, each member of the band can have ultimate quality while working alone, and the band can have huge track counts when playing together. You can't lose!
Stand-alone Operation
Flexible signal routing and sophisticated patch and preset management systems are also featured in the 2882 Expanded, including two separately addressable boot states for standalone operation. 2882's front-panel recall system allows the unit to function equally as well as a stand-alone Mic Pre/Converter system. In standalone mode, the 2882 operates with the converters directly routed to and from the AES/SPDIF I/O, ADAT or TOSLINK.
As a standalone converter, the 2882 provides a 24bit/96kHz stereo front-end with 8 great sounding utility mic pres for any recording system. It also functions seamlessly as a digital monitor controller, making it ideal as digital headphone amp and studio monitor controller.
Applications
The 2882 Expanded supports a variety of applications. For studio recording, it provides a very high quality interface to a DAW, offering sound processing or simple file transfer between workstations. Its exceptional sound quality is the perfect complement to the studio's existing analog to digital conversion chain. Songwriters and engineers can use the 2882 Expanded to record and edit on the road, in the hotel, while traveling, or anywhere that inspiration strikes.
The 2882 Expanded is suitable for broadcast applications, too. It offers instant playback of two individual stereo sends for music cues or sound effects. The compact package and portable power features mean that the unit can go anywhere users need to work, and make on-site fixes or edit location recordings without the need to send files back to the studio, saving valuable time before air.
In the live performance arena, in addition to operating as a remote recorder for archiving performances or to play out backing tracks and musical cues, the 2882 Expanded can operate as a soft-synth mixer and I/O interface. The 2882 Expanded is also a great addition to a live sound engineer's setup, providing a simple and efficient tool for analysis and system venue tuning with SpectraFoo.
2882 Expanded: Integrated 2d Card and MIO Console 5
Now a standard part of all Mobile I/O units, the 2d Card is a massive DSP processing engine that is the nerve center of the 2882 Expanded. The 2d Card greatly enhances the DSP processing power of the Mobile I/O and provides brand new ADAT implementation based upon the technology developed by Alesis to provide rock-solid reliable ADAT interfacing.
Future Proof
In 2001 we introduced the Mobile I/O 2882 and called it "Future Proof". Seven years later, while the competition has obsoleted multiple generations of products, the 2882 is still arguably the best FireWire interface available on the market. In 2003, we released the ULN-2, with the finest preamps available in any interface, then or now. With the release of the 2d Card and v.5, we deliver yet again on our commitment to making "Future Proof" products that stand the test of time.
"My MIO 2882+DSP is the only piece of digital hardware I have ever owned that is more useful today than it was when I bought it."
— John Curley


Ultrasuede Studio



---
"…Our MIOs are the only digital hardware or software we have that's actually gotten better since purchase.  Pro Tools Mix systems purchased in 2001 won't run at all on new Intel Macs, or even on old Macs running Tiger, the last version of OS X before Leopard.  My 2882+DSP, purchased that same year, not only works on the latest Macs, it still sounds as good as our HD rigs (which is to say a lot better than the old 888/24s).  
Version after version, the MIOs have gained features and functionality. With 2d, a seven year old 2882+DSP is more powerful than the day it was built.  With Console v.5, all MIOs are more flexible and easier to use.  A digital miracle!"
— Dave Davis
Media Designer & Mastering Engineer


Sound Images




Read More…
---
"When the 2882 was introduced over eight years ago, Metric Halo had plans for its future. Well before it was fashionable to go Green, MH had built-in expandability without asking you to buy a whole new interface. The original 2882 is still ahead of its time. Now you pop in the 2d Board and you get the best sounding, most powerful, most flexible FireWire audio product ever shipped. The new console is absolutely amazing and Character is worth the price of admission alone. It's not an upgrade, it's a rebirth."
— Marc Schonbrun
Guitarist - Author - Music Technology Educator


www.marcschonbrun.com
---
"When I first had the resources to purchase serious recording gear, I did an unbelievable amount of research, knowing that it might be my last chance to do so, and I'd have to live with my decision. 5 years later, without doubt, my decision to purchase my Metric Halo MIOs was the best equipment purchasing decision I've ever made.
The sound and quality of my original Mobile I/Os still matches or surpasses that of equipment many times more expensive that is being released today, and their routing flexibility is unparalleled.
The addition of 2d and the v.5 software is just one more example in a long line of them, from a company who continues to add value to its existing product lines and user base. This is in stark contrast to the usual industry practice of letting those things languish and die to push out more new product that isn't necessarily an improvement. It's safe to say that the new 2d technology and v.5 software make me the fastest car on the block, and I thought I already was."
— David Wilcock
Owner, 

Tacklebox Music
---
"The best just got a whole lot better.
With a bewildering selection of FireWire interfaces now on the market, my original investment in Metric Halo hardware and software has paid off big-time: eight years after my original purchase of my first 2882+DSP, MH has delivered a combined software and hardware upgrade that redefines the genre… Unlike most other hardware that loses its value over time, my Metric Halo boxes are worth more to me now than when I first bought them.
Some of the best things improve with age and this is certainly true of my Metric Halo interfaces… Now, with the v.5 software and the retrofit hardware upgrade, I've effectively gained a whole new unit…
Some of my less-enlightened colleagues have had to upgrade their hardware two or three times in order to keep up with new releases from other manufacturers, often seeing the resale value of their old systems drop through the floor. I've never needed to play that game and I can't emphasise enough how happy that makes me…
What's astounding is that the functionality of the Metric Halo boxes has increased over the years that I've owned them: other manufacturers have constantly brought out new versions of their interfaces and the resale value of the old ones plummets. Metric Halo has constantly upgraded system performance via free software upgrades and now, with a reasonably-priced hardware add-on, arguably presents long-term users with a whole new interface. I can't think of many other manufacturers who treat their customers so well."
— John Leonard
Theatre Sound & Show Control


Sound & Show Control




Read More…
---
"When I received my MIO 2882+DSP seven years ago it soon became my most used, most useful piece of gear. Since upgrading to 2d it has become even more useful to me. I know of no other box that has increased in it's intrinsic value over 7 years!
…If my laptop, or external synth module, or FX box, or keyboard controller broke or was stolen I would replace them with the latest equivalent with better features or upgraded sound or a faster processor. If my MIO suffered the same fate I would immediately get a new one, exactly the same model at full list price if necessary. There is no equivalent, and nothing out there that can do even a fraction of what my MIO does, and does elegantly."
— Steve Hilmy


composer, performer, music professor




Read More…
---
"…With so many audio hardware and software companies following the 'planned obsolescence' business model, it's refreshing to find a company like Metric Halo that believes in supporting their products for the long run.  With the v.5/2d update, I feel I have the equivalent of a brand new interface with tons of new functionality for about the same cost as the upgrade fee for most of my plug-ins!…"
— Jerry Schroeder


Read More…
---
"…Once the 2d Card is installed into a unit — even one that may be several years old — it becomes effectively a new unit. I think to give us all the opportunity to upgrade our units in this way is an amazingly generous move by Metric Halo, and shows just how classy a company they are, the value, the service, the technology is way above the rest, there is no other company that gives me the sense of security and reliability that Metric Halo does…"
— Rico Sergeant
Singer Songwriter


www.ricosergeant.com




Read More…
While other manufacturers churn you with the special of the day, we build products that preserve your investment and deliver for you year after year and project after project. It is our philosophy and we take it seriously.
Which interface is right for me?
While all Metric Halo interfaces are multi-purpose, each has characteristics that make it shine in one use or another:
Use the following table to see the notable differences between the interfaces.
Feature

ULN-8

LIO-8

ULN-2

2882

Converter Technology
2nd Generation
2nd Generation
1st Generation
1st Generation
Preamp Technology
3rd Generation
Optional (1)
2nd Generation
1st Generation
Analog Technology
3rd Generation
3rd Generation
2nd Generation
1st Generation
DSP Technology
2nd Generation
2nd Generation
2nd Generation
2nd Generation
44.1k - 48k
√
√
√
√
88.2k - 96k
√
√
√
√
176.4k - 192k
√
√
n/a
n/a
Channels of A/D
8
8
2
8
Mic pres
8
0, 4, 8 (1)
2
8
Gain
91.5 dB
91.5 dB (1)
72 dB
42 dB
Jensen Option
n/a
n/a
√
n/a
Noise floor
117.9 dB
117.9 dB
110 dB
110 dB
Insert points
8
0 (8 sends)
2
n/a
Dedicated DIs
2
2
n/a
n/a
Metering
15 Segment Multicolor
15 Segment Multicolor
10 Segment
Fixed Color
10 Segment
Fixed Color
Channels of D/A
8
(plus headphones)
8
(plus headphones)
4
8
(plus headphones)
Output Control
Digitally Controlled Analog
Digitally Controlled Analog
Analog (Monitor Outs), Digital (Analog Outs)
Digital/Analog hybrid
Output Control UI
FP + Computer
FP + Computer
FP Only (Analog)
Computer Only (Digital)
Computer Only
Monitor Controller
Analog Domain
Analog Domain
Digital Domain
Digital Domain
AES Digital I/O
8 channels
(single wire)
8 channels
(single wire)
2 channels(2)
2 channels(2)
Optical Digital I/O
n/a
n/a
8 channels ADAT(3)
or 2 Channels TOSLINK
8 channels ADAT(3)
or 2 Channels TOSLINK
Wordclock I/O
√
√
√
√
Multipurpose encoders
9
9
n/a
n/a
Tact Switches
7
7
2 (snapshot selection)
2 (Mute & Dim)
Gain Control UI
FP + Computer
FP + Computer
FP Only
Computer Only
Gain Control
Encoder
Encoder
Switch/Pot
Computer
Gain Style
Digitally Controlled Analog
Digitally Controlled Analog
Analog
Digitally Controlled Analog
2d Card
√
√
√
√
Ultra-low Latency Mixer
√
√
√
√
Basic DSP Plugin Bundle
√
√
√
√
+DSP license
√
Optional(4)
Optional(4)
Optional(4)
Number of channels to/from DAW over FireWire
18 (5)
18 (5)
18
18
Number of boxes per FireWire bus

3@ 44.1 - 48 kHz

2@ 88.2 - 196 kHz

3@ 44.1 - 48 kHz

2@ 88.2 - 196 kHz

3@ 44.1 - 48 kHz

2@ 88.2 - 196 kHz

3@ 44.1 - 48 kHz

2@ 88.2 - 196 kHz

Bus powerable?
No
No
√ (6)
√ (6)
DC powerable?
√
√
√
√
Power Switch
√
√
No
No
Audio I/O connectors
DB-25
DB-25
XLR and TRS
XLR and TRS
SMPTE I/O
√
√
n/a
n/a
MIDI I/O
√ (7)
√ (7)
n/a
n/a
Dimensions
17" x 13" x 1.72"
432 x 330 x 44 mm
17" x 13" x 1.72"
432 x 330 x 44 mm
13.5" x 8.25" x 1.73"
343 x 210 x 44 mm
13.5" × 11" × 1.73"
343 x 279 x 44 mm
Weight
6 lbs
2.7 kg
6 lbs
2.7 kg
4 lbs
1.8 kg
4.5 lbs
2 kg
Suggested retail price
$4495
$2995
$1595
$1795
1: 4 or 8 channels of 3rd Generation ULN-R mic pres may be installed as a factory option or at a later time.
2: Switchable between AES and SPDIF. ASRC available on input.
3: ADAT does not support SMUX; operation is limited to 44.1-48 kHz
4: +DSP licence can be added for $699 at any time.
5: Firewire transport limited to 8 channels in each direction @ 176.2-192 kHz sample rate.
6: Interfaces may require a "jumpstart" to boot on some laptops. More information is available here.
7: MIDI I/O is for control surface connection, and not optimized for musical input
The brains behind the sound...
All Metric Halo interfaces are built on the 2d DSP card and MIO Console software.
Click here

to find out more about these core technologies.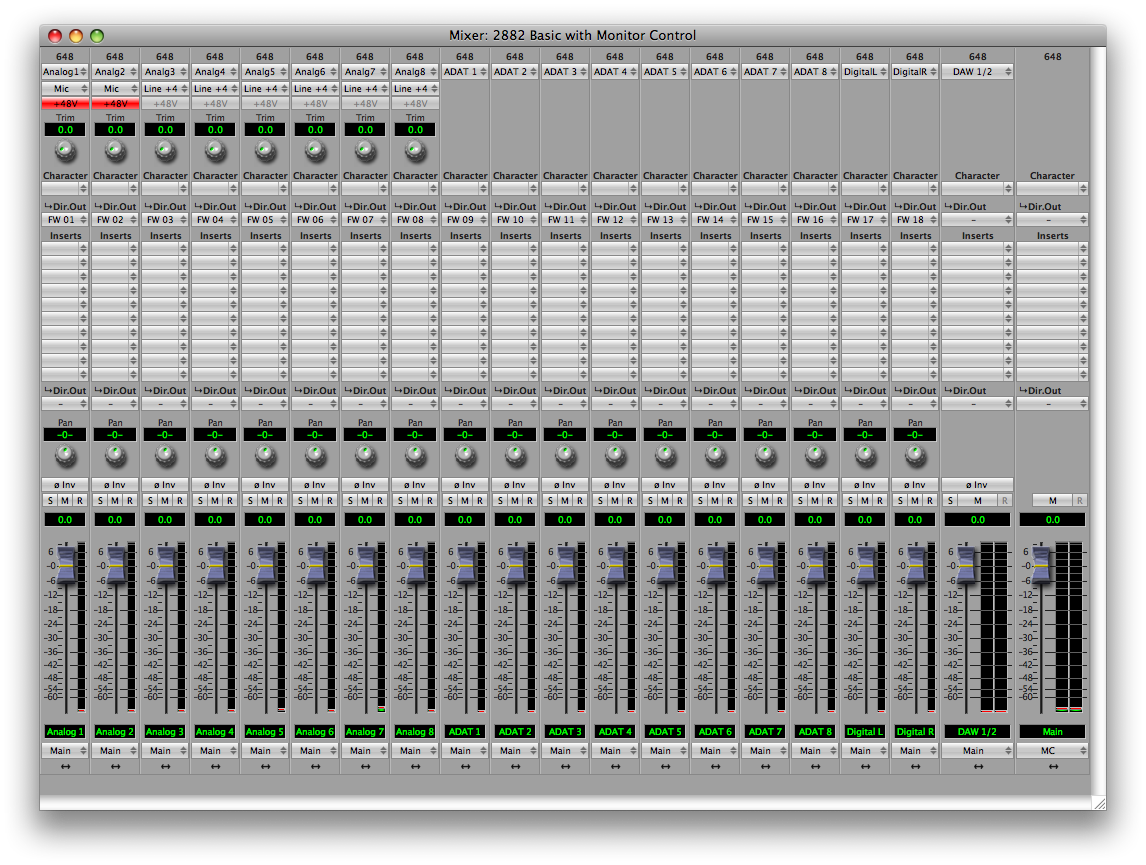 Click the "Info" button in the player and follow the link to find out more about the track and artist.
The Trouble With Love by The Bonedrivers
50,000 Names by True Margrit
Wasted by Flytecase
All rights reserved by the original artists
Computer:

Any Mac that supports Mac OS X
At least one FireWire port; one port will support 3 interfaces at 44.1 - 48 kHz, and 2 interfaces at 88.2 - 192 kHz
Universal Binary (native support for PPC and Intel)
Mac OS X 10.6.8 or newer required

Peripheral FireWire Adaptors supported:

OHCI compliant PC Card, PCI card, ExpressCard or PCIe card
Apple Thunderbolt to FireWire adapter, Apple Thunderbolt display, Sonnet Technology Thunderbolt to Expresscard adapter with FireWire Pro 800 ExpressCard/34

Software: All CoreAudio compliant software is compatible with Mobile I/O, including:

Cubase
Digital Performer
GarageBand
iTunes
Live
Logic
Nuendo
PreMaster CD
soundBlade
WaveBurner
Pro Tools
and hundreds more…
One Mobile I/O 2882 unit
One IEC Power Cord appropriate for your area
One 24-volt 48-watt world-ready external power supply
One 30" IEEE 1394 9-pin to 6-pin FireWire Cable
One 4.5 meter IEEE 1394 9-pin to 6-pin FireWire Cable
Two Rack Ears w/ fasteners
Rubber feet
MIO Software CD-ROM
Warranty/Registration Card