MH Thump
Make your subwoofers shake!
Download Thump for Free!
Just sign up for Metric Halo's mailing list and we'll send you a personalized link to download Thump.
Once you Dwonload Thump simply install it and you're ready to go!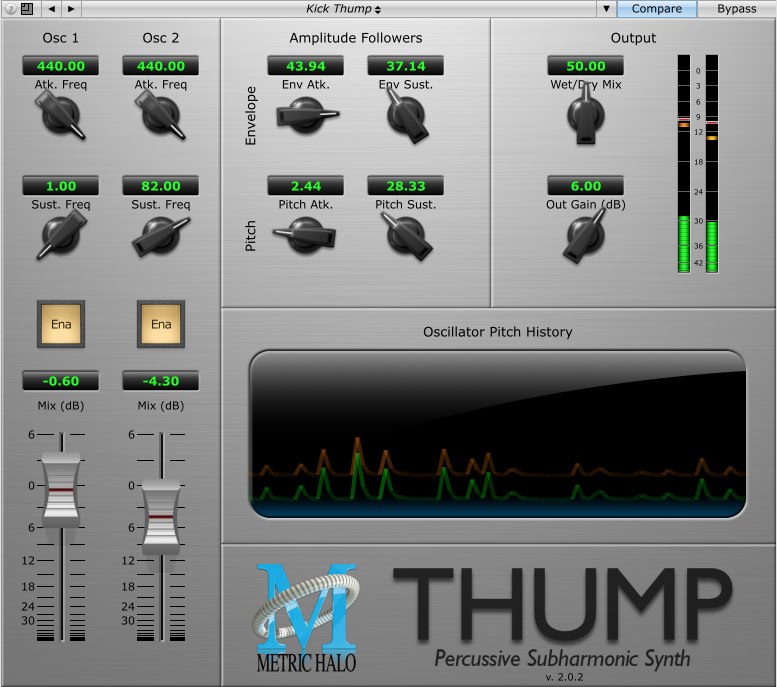 Thump is a unique audio processor that allows you to synthesize low frequency audio to add low end to a track or generate another sound entirely. Thump looks at the pitch and dynamics of its audio input and uses this information to control its oscillators. You can add low end to drums, augment a bass or even create synthetic drones.
Thump is ideal for beefing up a kick drum, add low end to percussive tracks, re-create classic drum synth sounds, and more.
You can use Thump's envelope driven, percussive sub-harmonic synth for the following things (among others):
Build low-octave support for bass drum, tom, snare, and other percussive tracks
Create kettle drum sounds from regular drum tracks
Re-create the sounds of classic drum synths like the TR-808
The best part? Thump is FREE!
MH Thump Intro Video
Key Features
Two independent envelope driven oscillators
Complete control over both pitch and amplitude envelopes
Wet/Dry control for mixing synthesized sound with the source
Detailed metering
A dozen presets included to get you started
Adjustable UI size / Disclosable Graphs
MH Preset Manager - Provides cross-platform presets
Cross Platform - Mac AU, Mac/Win VST & Mac/Win Pro Tools AAX (Native + DSP)
Pro Tools Expert Show And Tell Review Of Metric Halo Thump
Russ Hughes of Pro Tools Expert runs down the features and uses of Thump. Check out the video to get some ideas of what you can do with Thump.
Remember; Thump generates LOW frequencies -- listen on monitors or headphones to hear the effects. Computer speakers are not going let you hear what you can do with Thump...
Tech Specs
System Requirements
Mac OS X 10.8.5 or newer. Intel Processor or Apple Silicon. AU, VST, or AAX (Pro Tools 11 & newer DSP & Native) host. 64 bit.
Windows 7 or newer. Intel Processor. VST or AAX (Pro Tools 10, 11 & 12 DSP & Native) host. 32 & 64 bit.
Licensing Requirements
Documentation [PDF]
MH Thump User's Guide