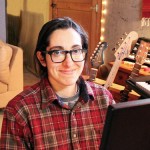 SAFETY HARBOR, FLORIDA – MARCH 2017: Michelle Chamuel is perhaps best known as the charismatic runner-up on season four of NBC's The Voice, where her amazing performance of Taylor Swift's "I Knew You Were Trouble," earned high praise from Swift herself and chart position on the Billboard Hot 100! But Chamuel's obvious talent for captivating audiences with her singing voice and relatable personality is really just one talent among many. She is a capable multi-instrumentalist, an impassioned songwriter, and a uniquely creative producer. Her production alias, The Reverb Junkie is an obvious tech-head nod to her love of manipulated sound. Since her early involvement in the band Ella Riot and her appearances on The Voice, Chamuel has released three pop-focused albums/EPs under her own name, Face the Fire, The Drift, and Feel It, and three experimentally-focused albums/EPs under The Reverb Junkie moniker, All I Want, EP 2, and I Am. Throughout, she has relied on her Metric Halo 2882 converter and Metric Halo ChannelStrip plug-in to faithfully capture and create her expansive universe of sounds.
Read more...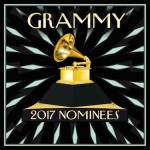 Metric Halo is proud to congratulate more than 50 of our customers who have been nominated for a 2017 Grammy® Award!
Tune in for Music's Biggest Night®, and watch The GRAMMYs February 12, 2017 on @CBS (8:00 pm ET / 5:00 pm PT)!
https://www.grammy.com
Nominated Metric Halo customers include artists, conductors, Engineers, Mastering Engineers, Mix Engineers, Producers and Songwriters, encompassing 40 different projects in 17 award categories, including Record of the Year, Album of the Year, Best Engineered Album - Non-Classical and Producer of the Year. Genres vary from Dance, R&B, Rap, Country, Contemporary Christian, Musical Theatre, Visual Media, Instrumental, Historical and Chamber/Small Ensemble.
These MH customer nominees worked with a wide variety of artists, such as Adele, Bonnie Rait, Lukas Graham, Andrew Bird, David Bowie, Prince, Drake, Kanye West, Rihanna, Beyoncé, P!nk, Kinky Boots - The Original West End Cast, Hillary Scott & The Scott Family, For King & Country, Justin Bieber, Spektral Quartet, Drake, Waitress - The Original Broadway Cast, and more!
Please join us as we congratulate all of the 59th Annual Grammy Award Nominees, including the Metric Halo Customers* who worked on the following projects:
Read more...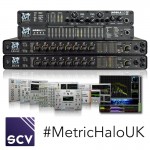 HODDESDON, UNITED KINGDOM: SCV Distribution, distributors of premium audio technology to professionals and enthusiasts throughout the United Kingdom and Ireland, have recently added NEW Metric Halo dealers to their roster in the UK.
Please contact your local Authorized Metric Halo Reseller below to learn more about Metric Halo mic-preamps, converters, interfaces, plug-ins, SpectraFoo, product availability, pricing and more!
Your favorite dealer isn't on the list? Invite them to join Metric Halo's growing global reseller network today.
For new dealer inquiries: In the UK, please contact SCV Distribution at This e-mail address is being protected from spambots. You need JavaScript enabled to view it . In all other areas, please contact Metric Halo or your region's local distributor directly.
Read more...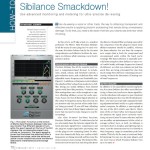 In this article, we'll take a look at a standout performer: the Metric Halo Precision DeEsser. Of all the many de-esser plug-ins I've used over the years, Precision DeEsser has, by far, the most comprehensive and effective facilities for zeroing in on sibilance while retaining a vocal track's presence and air.
- Michael Cooper
Electronic Musician Magazine
Feb. 2017 Edition
ONLINE NOW! Please click the link to read the full article: Electronic Musician Magazine Sibilance Smackdown!
Or, buy a copy of Electronic Musician Magazine (February 2017 Edition), on newsstands NOW.
Read more...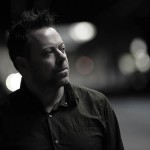 LOS ANGELES, CALIFORNIA – FEBRUARY 2017: Dropping his tone as one might in conversation with a co-conspirator, TV composer Jonathan Thomas Miller seemed to almost confess: "The speed of my delivery is crazy. I'm writing, recording, and mixing three to four pieces a day. I gotta crank it out!" But don't get the wrong idea; he wasn't complaining. Miller loves the challenge and constraints of his business, which he's been building for nearly two decades.
After happily spending "forever" in school in his native Ohio and Michigan, Miller took the musical plunge in 2000 and moved to Los Angeles to serve as an assistant to Tom Hiel, composer for ABC's The Practice, which gave him an inside view of the industry and plenty of practice (ha!) mixing. A sequence of happy accidents presented him with the opportunity to write the theme for Discovery Channel's Big!, which led to extended gigs on shows like Flip That House (89 episodes), Verminators (26 episodes), Oddities (42 episodes), Wild Justice (31 episodes), 1000 Ways to Die (76 episodes), and Jay Leno's Garage (16 episodes and counting), among many, many others. In total, Miller estimates that he has written 6,000-7,000 pieces!
Read more...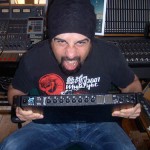 SAFETY HARBOR, FLORIDA – JANUARY 2017: Before 2013, Rob Caggiano was perhaps best known as the guitarist for American heavy metal behemoth Anthrax, a position he resigned in 2013 on good terms to follow his passion and broaden his horizon musically. Although it wasn't part of any kind of premeditated plan, Caggiano almost immediately joined the Danish heavy metal behemoth Volbeat and has remained with the band since, not only to shred their solos, but also to write solos and songs of his own with them. What's not so well known is that Caggiano won both positions as a producer and engineer and that he continues to bring great music into the world in that capacity with his trusty – and extremely portable – Metric Halo ULN-8 interface. "It's an entire studio in one rack space!" Caggiano said.
Read more...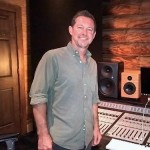 Anatomy of a Grammy-Award Nominated Country Song
NASHVILLE, TENNESSEE – DECEMBER 2016: Chris Young and Cassadee Pope's smash #1 hit duet "Think of You" was recently nominated for a 2017 Grammy Award in the Best Country Duo/Group Performance. The song soared to the top of the Billboard Country Airplay chart in May and earned a nomination for Musical Event of the Year at the 2016 Country Music Awards. Clearly, clever songwriting and heartfelt performances made the song the wonder that it is, but credit must also be given to famed mix engineer Billy Decker, whose efforts have earned him eleven number one songs and sales of over 25 million RIAA-certified albums. Like every song Decker mixes, Metric Halo plug-ins featured prominently in "Think of You" and allowed the artistry of the creation to shine to its fullest potential.
Read more...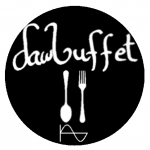 READING, MASSACHUSSETTS (USA) - December 10, 2016: DawBuffet is the music and audio software information site founded by Nick Batzdorf, former editor-in-chief of Recording magazine and then editor/publisher of Virtual Instruments magazine, and a self-described long-time Metric Halo fan and 2882 user. He and fellow audio enthusiasts created DawBuffet as a place "where you feed your DAW and discover new ways to get the absolute most out of it." DawBuffet offers "the best instruments and tools available, at the best prices, along with professionally-written articles."
Metric Halo welcomes DawBuffet to its growing global reseller network and is proud to announce the Production Bundle, ChannelStrip 3 and the complete arsenal of MH AAX / AU / VST plug-ins for Mac & Windows are available for purchase at dawbuffet.com! Check out the whole collection here: https://dawbuffet.com/collections/vendors?q=Metric%20Halo
Read more...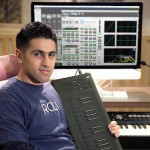 SAFETY HARBOR, FLORIDA: Vahagn Stepanyan is a talented music producer, arranger, composer, and keyboard player from Armenia who has fully embraced the promise of long-distance collaboration. He regularly collaborates with Turkish mixing engineer Alen Konakoglu. He and Vahagn completed projects with musicians from nearly fifteen different countries, including Eric Marienthal, Nathan East, Eric Moore, Anthony Crawford, Mark Lettieri, Adam Hawley, and Jack Thammarat. In addition, he handles the YouTube post-production for Chaka Khan's bassist Melvin Lee Davis and works with Grammy-winning mastering engineer, Evren Goknar and some others. Vahagn is also a Grammy Recording Academy voting member and recently signed on to score and arrange soundtracks for sixteen documentaries produced by Armenian Public Television.
Read more...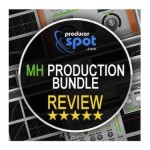 The Metric Halo Production Bundle is "simply a dream to use in a DAW, and a must-have for musicians, sound designers, and producers. So for musicians or anyone using a PC or Mac, if you want pro plugins in the class of Consoles and Mixers, it's a platinum choice for one of the best bundles available there on the market !"
- Grabule
producerspot.com
Read more...
«
Start
Prev
1
2
3
4
5
6
7
8
9
10
Next
End
»
Page 1 of 22