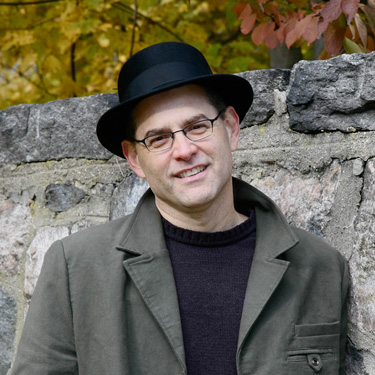 Doug Cuomo (PHOTO CREDIT: © 2011 Dan Fried, H&H Photographers)
OCTOBER 2011: Douglas Cuomo's remarkable aptitude for creating engaging music across genres has earned him renown in the concert halls and on the operatic and theatrical stages of the world.
To appreciate the tremendous scope of Cuomo's work, it may be sufficient to note that his work has been commissioned by both Chanticleer and Britney Spears. But Cuomo also maintains a prolific career as a composer for film and television, where his ability to create genuine music of any style is a rare and valuable commodity. Among his credits are literally hundreds of themes, scores, and incidental music for network television (including Sex and the City, Homicide: Life on the Streets, Committed), film (including In the Weeds, Naked in New York, and Lie Down with Dogs), and documentaries (including Crazy Love, America's River, and National Geographic Explorer). Part of what explains Cuomo's high volume of consistently excellent music is Metric Halo's ChannelStrip plug-in, which provides eminently useable presets that help translate the sounds he hears in his head to the loudspeakers.
To understand why ChannelStrip is so essential in Cuomo's workflow, it is important to understand a critical hurdle in the process of completing a piece of music for film or television. "Between the idea of a score and the finished product is one or more rounds of approval from the producer or director," he explained. "That means I have to record and mix a demo of my idea, which often involves synthesized versions of instruments that will ultimately be recorded using acoustic instruments for the final. That demo has to shine in its best possible light, because the truth is that otherwise, the producer or director may feel that something is wrong without being able to pinpoint exactly what it is. The goal is to avoid having to rework something that they would have liked if they had heard it in its best possible light." Cuomo claims to have learned this lesson the hard way.
Metric Halo created ChannelStrip in the image of the big, great sounding analog consoles that were the industry forerunners to the modern-day, computer-based workstations. Those big consoles included comprehensive equalization and dynamics processing on each channel strip, allowing the engineer full control of how any particular channel presented itself in the mix. Cuomo has been using it for longer than he can remember ("several systems ago" was the only hint he could provide) because it sounds great and comes armed with over one hundred truly useful presets.
"I always start from a preset," Cuomo said. "There's a preset – and in many cases a lot of presets – for any given instrument or application. Almost without exception, that gets me 90% to where I'm going, and it's intuitive enough to tweak from there. I know that mix engineers often start from scratch with these sorts of things, but that's a skill set I don't have. For me, it's much better to have ChannelStrip at the ready to call up the sort of sound I'm after. ChannelStrip delivers it."
Cuomo claims that there is never a project – or even a single cue – that doesn't benefit from ChannelStrip. He uses it on any instrument that isn't quite sounding the way he thinks it should, and he always uses it on the two-bus master. "The presets for the two-bus give my demos the sound that communicates to the producer or director that what they are listening to is a high-end, professional product," he said. "There's an important psychological element to that and it reinforces the professionalism of everything else that I'm doing – not the least of which is my composition!"