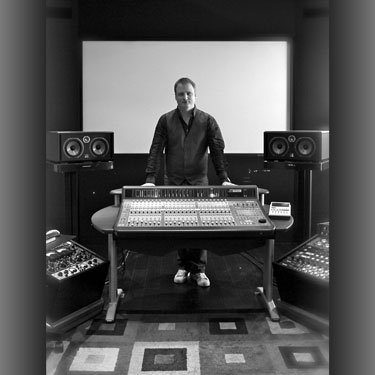 Seasoned audio engineer Richard Furch has worked on numerous Grammy Award-winning albums for the world's leading pop, R&B, and rap artists.
His client list includes Prince, Jimmy Jam & Terry Lewis, Tyrese, Frank Ocean, OutKast, Macy Gray, Usher, Chaka Khan, Katherine McPhee, Fountains of Wayne, The Brooklyn Tabernacle Choir, and he has worked with a slew of prominent rappers including Jay Z, Snoop Dogg, The Game, Rick Ross, and Ludacris (more info is available at richardfurch.com). He recently mixed India.Arie's album SongVersation and Chrisette Michele's album Better, each almost in its entirety. Both albums went to number one on the iTunes R&B chart and captured the number one and two spots, respectively, on the Billboard R&B charts and stayed in the top ten for eight weeks. As with everything he mixes, Furch began with an instance of Metric Halo's ChannelStrip plug-in on every channel of every song he mixed on both albums. Because it can be either transparent and surgical or colored and organic depending on his needs, Furch bases his workflow and sound on ChannelStrip.
"I love the perfect combination of transparent when I need it, but 'analog smooth' when I want it," he said. "With everything flat, ChannelStrip is truly transparent. I've loaded a dozen or so instances in series and compared the output to the original – it was indistinguishable. Because of that, I don't hesitate to put on extra instances to automate small fixes as needed. For example, there were moments in India.Arie's vocals where she got a little too close to the mic or one of the syllables lacked the presence it should have. I could leave the ChannelStrip instance that gave me the overall balance just as it was and punch in a new instance just for a particular correction." Furch maps the controls from the ChannelStrip on each Pro Tools channel to the Avid C24 Pro Tools control surface that organizes his workflow. "ChannelStrip is essentially my board… any other plug-in is a flavor," he said.
In the course of using ChannelStrip for so many years, Furch has developed his own flat preset that serves as a speedy jumping-off point. Strategic equalization frequencies, cut-offs, and bandwidths together with compression ratios, side-chain settings, and release times make it easy for him to pop in one of several tricks that instantly take tracks to good places. For example, if he finds that he's losing a particular instrument in the mix, he enables the compressor with his preset parameters and the auto gain make up "lifts out the sound of the mix a bit." He continued, "I used to do that when I mixed on SSL consoles, but no other plug-in – not even SSL emulators – could replicate that trick quite this way and keep the gain exactly steady. ChannelStrip does. In addition, I often employ the high-pass filter on the compressor side chain and then lower the cut-off frequency to get more compression. It's like a second threshold control, but it has its own, uniquely musical effect."
On SongVersation, Furch employed ChannelStrip's high shelf EQ – as he often does – to add clean "air" to the high end of several tracks, including India.Arie's vocals. "It's such a wide shelf," he explained. "I leave the frequency way up at 20kHz, but it has a smooth effect all the way down to 8kHz or so. When I lift it up, the track becomes airier and more lively. The quality of the shelf is so good that it's never obtrusive. In fact, that's one of the first things I do when I start a mix. I find the tracks that don't seem as lively as they should be and use the high shelf. Because India.Arie's vocals are so critical, because they have to be forward and warm, and because they need some sizzle at the top, I used ChannelStrip to really create her sound."
Similarly, Furch asks his assistant to pre-condition every mix by employing the ChannelStrip high-pass filter to remove all low-end sounds or energy that aren't actually serving a musical purpose. "The filter itself seems colorless," he said. "I can pull out a lot of rumble without affecting the quality of the musical low-end information. I used that technique on Chrisette Michele's new album – especially on the backing vocals. There, I raised the cut-off quite high, since it's great at cleaning up the sound without making it too lean. With the new real-time analyzer built into ChannelStrip3, it's easy to see where to place the cut-off. It's nice to feel comfortable knowing I'm in the right place."
But for Furch, Metric Halo's ChannelStrip isn't merely for surgical fixes. "When I start working with the parametric EQ, I can really hear that pleasant analog feel that ChannelStrip is able to deliver. I typically crank up the gain and sweep the frequencies to quickly identify the right center point. It's like ChannelStrip zooms in on the sound. Then I can relax the gain and everything sounds so precise. Most of the time it only takes a few dB. It's very responsive," he concluded, "a powerful weapon of mass sound manipulation!"