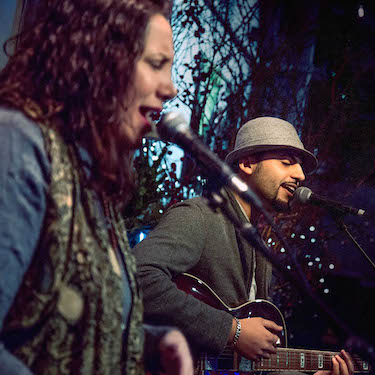 SAFETY HARBOR, FLORIDA: Boogie Monsta and Ms. Mauikai are the down to earth, indie pop/alternative soul duo known as D'ALA. Boogie brings the musical roots of his French-Iraqi heritage to the group, and Mauikai brings the musical roots of her Cuban-American heritage. All together, D'ALA is born of a unique recipe for making grooves that are so infectious, their audience has no emotional bandwidth left for wondering about the technicalities of the recipe! Boogie and Mauikai have been working together since 2009, most often on projects involving the complicated logistics of numerous band members. With D'ALA, they've been playing fly dates around the U.S. and abroad with nothing but an acoustic guitar, a pair of microphones, and a Metric Halo LIO-8 outfitted with four mic preamps and a paired MacBook Pro running Metric Halo MIO Console +DSP and Ableton Live.
"Minimizing our production has been an artistic revolution for us," said Boogie, who does extensive work as a producer and engineer. "We enjoy playing stripped down versions of songs, with nothing but guitar, our voices, and midi pedals to control loopers and trigger sounds and effects. The loops we create at the beginning of a song are organic, and we're free to vary the tempo to suit the mood of the moment. The triggered sounds can all work with any loop tempo, which allows us to really play our songs as acoustic musicians, but with a huge universe of electronic sonic possibilities." Mauikai added, "Our new setup is so intuitive that it has transformed our song writing process. We can improvise and find new ideas that are so exciting we feel compelled to develop them into finished songs."
In the studio, Boogie uses a two-channel Metric Halo ULN-2, as well as the LIO-8 that he takes on the road with D'ALA. On the road, the LIO-8 amplifies their two vocal microphones, the P-90 pickup on Boogie's electric guitar, as well as its piezo pickup that makes it sound like an acoustic guitar.
He uses MIO Console to build his own custom "+dsp graphs" (zero-latency processing algorithms running on the DSP in the LIO-8 hardware), that he uses to give the guitar different sounds for different songs.
For example, one graph drops his guitar an octave so that he can effectively play bass. Another graph gives his guitar an "afro-funk" sound. Another graph takes the "quack" out of his piezo pickup to make the acoustic guitar sound as if it's beautifully mic'd. Importantly, Boogie is able to use the processing capabilities of MIO Console to adapt their sound to suit the particulars of any venue's PA system.
"With most products, you have to sacrifice quality to get portability," said Boogie. "Not so with Metric Halo. The conversion quality of the LIO-8 is incredible, and I'm really picky about my conversion. Moreover, I was able to put as many mic preamp channels as we needed right in the box – no need to have an extra piece of gear for preamps! And Metric Halo's preamps are so excellent that they've actually changed my workflow. I used to be the engineer who was always chasing after some boutique sound, but once I heard the pristine quality of the Metric Halo preamps, it changed my thinking. They're so honest, pure, and precise, while still being lively, musical, and dimensional. I love that sound, and if I want to tint it a little bit, I can just add Metric Halo's excellent, but appropriately subtle, character emulations."
Boogie is also a huge fan of the people behind Metric Halo and their commitment to future-proofing their gear. "The folks at Metric Halo are great human beings," he said. "They're straightforward and honest; they ask a fair price for an excellent product and then stand behind it. They're not hustling me for money! The new 3D cards that are in the works will retrofit all of the existing Metric Halo interfaces to work with all of the modern connections so that the gear I bought years ago will remain at the state-of-the-art. What other company does that?"
---
As seen in ProSoundWeb and MixOnline.
Article Updated July 26, 2016