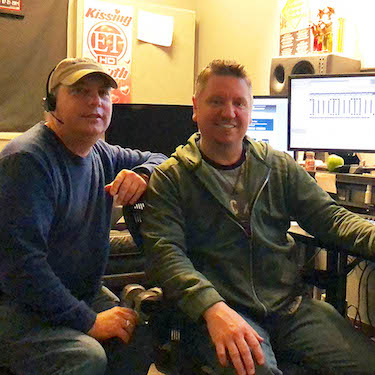 (From left to right – Entertainment Tonight Producer Kevin Gershan and Editor/Mixer Dan Schanks at work in the edit bay at CBS Studio Center in Studio City, CA)
STUDIO CITY, CALIFORNIA: Kevin Gershan has been a producer and director for CBS Television Distribution since 1979. "I have worked closely with audio," he said, "from my days in radio to my move into television. I started my career working with all the classic analog gear and techniques, and I transitioned through all of the digital formats – right up to the latest digital technologies today." After Entertainment Tonight's syndicated radio feature switched over to using Media Composer in an Avid video editing system, Gershan and his team came to rely on Metric Halo plug-ins for their sonic integrity and rock-solid stability.
"We had been using Pro Tools with a collection of plug-ins that we were all very familiar with," Gershan explained. "The switch to Avid video editing with Avid Media Composer caused us some anxiety. What plug-ins would meet our needs without crashing the system? Our in-house technician recommended the Metric Halo Production Bundle. I was initially skeptical because I have always found that the best tools are the ones that I'm already familiar with: I mainly used modeled versions of the classic analog gear that I knew from my early days."
He continued, "Since I was unfamiliar with Metric Halo, I wasn't sure I could garner the same set of results that I had come to expect. But my skepticism didn't last long. After putting the Metric Halo Production Bundle plug-ins into play, I quickly realized that this one suite of plug-ins could cleanly handle the lion's share of the work without causing any problems with the Avid operating system." Since then, the Entertainment Tonight radio team has come to rely on Metric Halo ChannelStrip (all-purpose dynamics & EQ), Character (realistic signal chain modeling and saturation), HaloVerb (reverb), Precision De-Esser, Multiband Dynamics, and TransientControl (transient modifier and wave shaper).
"I later conferred with my Pro Tools expert operators, who told me that the Metric Halo Production Bundle was their 'go-to' plug-in suite for all of the road rigs," Gershan said. "As we had discovered on our own, they also liked the musicality, functionality, low resource consumption, and stability of the Metric Halo plug-ins. I recommend them to others now, and I look forward to integrating some of the other Production Bundle plug-ins, such as Dirty Delay, into our new workflow."