MH HaloVerb
Create your perfect space
HaloVerb is a plug-in that allows you to add ambience and depth to your recordings. Based on the original HaloVerb hardware implementation for 2d-Expanded Metric Halo interfaces, the HaloVerb plugin expands on the great algorithmic sound to give you more flexibilty and control. Use the reverb impulse to see the reverberant field as you make adjustments, or hide the graphics and let your ears be your guide.
According to mix engineer Billy Decker, "It's the perfect snare reverb – very thick and three-dimensional. After every snare hit, I can hear the little bits of dust crumbling in the background, little fairies floating around in the background. It's very deep!"
Add subtle ambience or generate the sound of a vintage echo chamber - the extensive presets and easy to use UI let you dial in the sound you want quickly.
Try it today — You'll love it!
Price: $179 - On Sale Now: $89  — Or purchase as part of the Production Bundle at a substantial discount.
Key Features
Low and High frequency pre-filters with graphic display
Reverb impulse display to show the shape of the reverb
Reverb times of up to 7 seconds
Stereo width control
Adjustable UI size
Supports AAX DSP – one of the only AAX|DSP reverbs available
MH Preset Manager - Provides cross-platform presets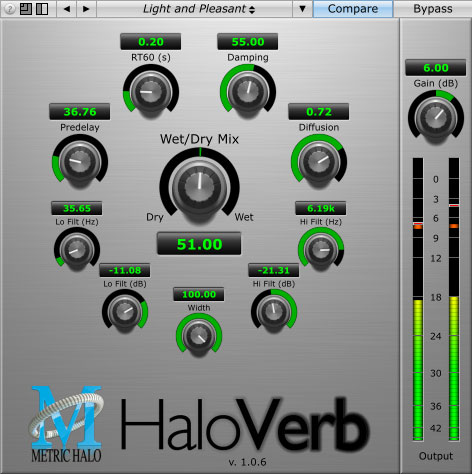 Try It Free for 30 Days
We want you to hear how Metric Halo can bring your mixes to the next level – that's why we have a free, fully functional 30-day trial for MH HaloVerb included in the Production Bundle Trial.
Try all the plugins in the Production Bundle for yourself today!
Is MH HaloVerb for you?
Engineers/Producers/Remixers/Musicians
Rely on the best sound quality available with Metric Halo's award-winning DSP.
Add subtle ambience or create a new space.
Low-latency reverb allows for easy monitor mixes.
Low-cpu hit means you can use as many instances as you need.
Fine tune settings you need with extensive and precise controls.
Get a high-end hardware reverb for software prices.
Get quick results with the many provided Metric Halo presets.
Get inspired!
Tech Specs
System Requirements
Mac OS X 10.8.5 or newer. Intel Processor or Apple Silicon. AU, VST, or AAX (Pro Tools 11 & newer DSP & Native) host. 64 bit.
Windows 7 or newer. Intel Processor. VST or AAX (Pro Tools 10, 11 & 12 DSP & Native) host. 32 & 64 bit.
Licensing Requirements
iLok.com account.
iLok dongle is optional — you may install the license on iLok for portability.
Only one license required – works on all supported platforms.
Documentation [PDF]
MH HaloVerb User's Guide