MH Multiband Expander
Expand your horizons
Multiband Expander is a plug-in that allows you to manage, suppress and control noise in your tracks in a frequency-sensitive way. The 3-band phase-coherent crossover network directs the audio to three independent expanders that you configure to smoothly suppress noise below the threshold you specify. The expanders can also be configured to change the feel of rhythmic patterns by suppressing elements that are played more softly – all in a frequency-sensitive way.
Multiband Expander features SpectraFoo™ spectral analysis to allow you to zero-in on crossover points and thresholds quickly and with confidence.
The Multiband feature of the expander is extremely useful for controlling noise and hum in guitar tracks, as you can attack the noise more aggressively than the desired signal.
While Multiband Expander is not an essential tool for every mix, when you need it, it will really save the day!
When Grammy Nominated Engineer Ariel Borujow used the Production Bundle to mix Charlie Red, he found that the tracks were noisy at times and he was able to use the Multiband Expander to carve out the noise. The very accurate spectrum analysis feature allowed him to zero in and position the bands for maximum effect.
Try it today — You'll love it!
Price: $179 - On Sale Now: $69  — Or purchase as part of the Production Bundle at a substantial discount.
Key Features
Low, mid, & high band expanders with independent controls
Comprehensive master-slave linking between bands
Dynamic Transfer function to show the overall response
SpectraFoo™ spectrum analysis built-in
Scalable gain reduction meters
Adjustable UI size
MH Preset Manager - Provides cross-platform presets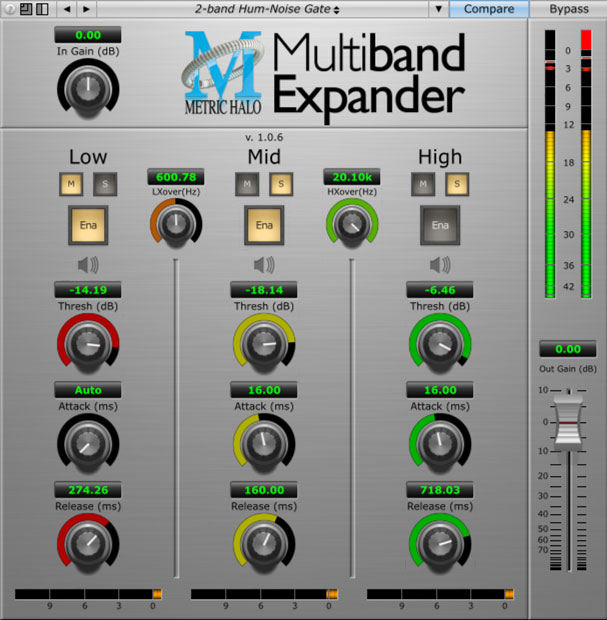 Try It Free for 30 Days
We want you to hear how Metric Halo can bring your mixes to the next level – that's why we have a free, fully functional 30-day trial for MH Multiband Expander included in the Production Bundle Trial.
Try all the plugins in the Production Bundle for yourself today!
Is MH Multiband Expander for you?
Rely on the best sound quality available with Metric Halo's award-winning DSP.
Clean your tracks when you need to - in low-latency real time.
Make room in the mix for tracks that are getting stomped by noise.
Use SpectraFoo to apply processing just where it is needed.
Get inspired!
Tech Specs
System Requirements
Mac OS X 10.8.5 or newer. Intel Processor or Apple Silicon. AU, VST, or AAX (Pro Tools 11 & newer DSP & Native) host. 64 bit.
Windows 7 or newer. Intel Processor. VST or AAX (Pro Tools 10, 11 & 12 DSP & Native) host. 32 & 64 bit.
Licensing Requirements
iLok.com account.
iLok dongle is optional — you may install the license on iLok for portability.
Only one license required – works on all supported platforms.
Documentation [PDF]
MH Multiband Expander User's Guide