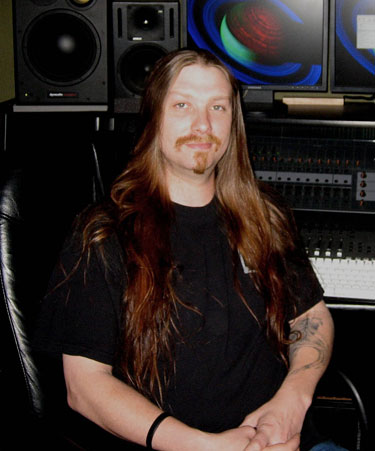 Sterling WinfieldSterling Winfield gained notoriety and respect early in his career for his contribution to Pantera's 1994, Grammy-nominated release, Far Beyond Driven. He's been on the first-call list ever since, and his production and engineering work with Mercyful Fate, King Diamond, Pantera, Damageplan, Hellyeah, and many others has earned his work four Grammy-nominations, two RIAA-certified platinum releases, and five RIAA-certified gold releases. Among his favorite tools is Metric Halo's ChannelStrip plug-in, both for its decidedly "undigital" sound and for its inspiration-fueling workflow. He used ChannelStrip prodigiously on Hellyeah's recent Stampede, which debuted at number eight on the Billboard 200 in July of 2010.
Not surprisingly, the vocals of Mudvayne frontman Chad Gray capture the listener's attention on Stampede, and Winfield was careful to record it to maximal effect. Depending on how melodic or growling a particular lyric was, Winfield used one of two microphones and recording paths. For more melodic lines, he used a Neumann M 149 large diaphragm tube condenser together with a TL Audio preamp and processor. For the edgier parts, Winfield combined a Shure SM7 with a Behringer VX 2000 preamp.
"Metric Halo's ChannelStrip has become an integral part of how I work," said Winfield. "Simply put, it's an easy way to get the right sound." For the smooth vocals, Winfield focused on subtracting frequencies to minimize conflicts with other instruments. Although there were many idiosyncratic uses that depended on Gray's delivery in the context of the arrangement at a particular moment, he generally removed energy between 200 and 600 Hz to open up the vocals. Mild compression applied the final polish. For the edgier parts, he leaned radically into ChannelStrip's EQ to sharpen that edge. Instead of mild compression, he arranged the dynamics section to deliver near-brick-wall limiting.
"I'm not a big tech-head, and I don't know the math or the algorithms, but I do know what sounds good and what sounds correct," said Winfield. "A lot of plug-ins sound harsh and artificial, in a way that I've come to associate with artless digital technology. Metric Halo's ChannelStrip is in a different class. It always sounds smooth, no matter what I'm using it on, and it gives things a 'sheen' in the same way that great analog gear does." On Stampede, Winfield marshaled that quality to make several of the guitar leads less strident. Some mild compression and effective EQ removed the painful edge, but retained the aggressive spirit of the leads.
Apart from great sound, Winfield so frequently turns to ChannelStrip because it is quick. "With a lot of other plug-ins, the presets sound terrible, like they've been set by a computer engineer who never set foot in a control room," he said. "In stark contrast, the folks at Metric Halo have designed some really killer presets. They sound awesome as soon as you turn them on, and it's simple to roll from there and modify the preset to finalize the effect. It keeps things moving so that I stay in the moment. That's the right way to work."
A great example is the 'rack tom' and 'floor tom' presets, which Winfield uses religiously. "I love the way the EQ curve and compression is set on that preset. It's really aggressive, and the more I dial down the threshold, the more the tom lifts up to the top of the mix. It's like magic."