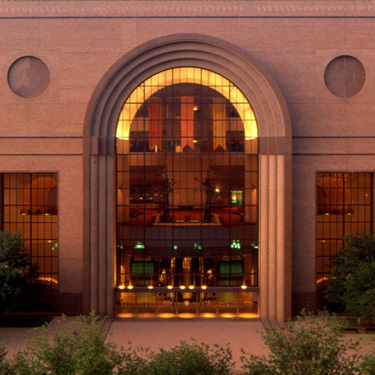 Houston Grand OperaHOUSTON, TEXAS: Those who have read the book or watched the film Dead Man Walking, about death row, may find it unlikely material on which to base an opera. That is, unless they have their eyes on the classical art form's vibrant and living edge. Originally commissioned by the San Francisco Opera in 2000, Jake Heggie's Dead Man Walking received numerous awards and has been performed throughout the United States and around the world. In celebration of its ten-year anniversary, EMI records will be releasing veteran classical engineer Marlan Barry's recording of this performance with the Houston Grand Opera. Unlike his previous remote sessions, which involved titanic computer rigs with racks of outboard ballast, Barry brought a very modest setup that centered on his recently-acquired Metric Halo ULN-8 FireWire mic-pre/converter.
Music flows through Barry's veins. He holds a degree in music and audio recording from the Cleveland Institute of Music (where he trained with Telarc masters Jack Renner and Michael Bishop) and a master's degree in cello from Ohio University. His employment history includes: audio engineer at the Spoleto Festival for several seasons; head engineer at the Breckenridge Music Festival and National Repertory Orchestra; chief recording engineer and production manager for National Public Radio station KUHF in Houston; and head engineer for the Houston Symphony and the Houston Grand Opera. Currently freelancing from his post-production room in Brooklyn, Barry has recorded Yo-Yo Ma, Renee Fleming, Samuel Ramey, Phillip Glass, Sir Paul McCartney, and alt-pop bands Deerhoof, Jessica 6, and Redhooker.
"Although I have a lot of friends who were using the Metric Halo converters on high-profile projects and raving about the results, I never considered it as a serious option for my work," Barry admitted. "Metric Halo converters are FireWire, and I had it stuck in my head that FireWire interfaces were decidedly 'pro-sumer.' I had some preconceived notions, and my alternative was to drag huge rigs of outboard gear to my remote work." A demo Metric Halo ULN-8, which features eight channels of preamplification and conversion in both directions, fell into Barry's hands... and changed his tune. "I was absolutely floored by the clarity of the pre-amps and the functionality of the unit," he said. "The dynamic range is huge and wonderful. The MIO Console, which runs with rock-solid stability on my MacBook Pro, is decidedly professional-grade. In short, the Metric Halo ULN-8 allows me to go on locations with just a modest FireWire interface and record at the highest possible level. I was convinced."
For Dead Man Walking Barry brought sixteen high-end mics, including DPA 4023s for the vocals, DPA 4060s for overhead room mics, Sennheiser MKH 8020 for orchestral mics, and Neumann KM 140s for spot mics. He also positioned two hidden DPA/Sennheiser wireless mics in the set for hard to reach moments in the opera. Not only does the ULN-8 provide eight channels of high-end microphone preamplification and conversion, it also allows eight additional digital inputs. Barry used DAV Electronics preamps and Mytek converters for the additional inputs, and clocked the ULN-8 to the Mytek unit. Using the Metric Halo MIO Console on his MacBook Pro, Barry tracked everything to two separate drives over the course of four nights. In addition, he used the agile MIO Console to submix the orchestra for live processing through a Bricasti M7 Digital Reverb.
"I did a pretty good job with the live two-channel mix, and the MIO Console allowed me to record that submix as well as all the individual tracks," he said. "So if we decide the submix isn't up to snuff, we can re-mix it later. I was impressed that over the course of the initial setup and four nights of recording, the Metric Halo system worked flawlessly, without so much as a hiccup. The disc mirroring was similarly flawless. All together, the system inspired confidence."
Barry is also using the ULN-8 at his post-production studio in Brooklyn, where he regularly uses Pyramix, Logic 9, and Pro Tools 9. He uses the ULN-8 as the monitor output for all three platforms, and is just beginning to tap the unit's potential as mix engine, with its onboard DSP and 80-bit summing. In addition, for pop and rock acts, he uses Metric Halo's 'Character' feature on the mic preamps. "The Character settings can make the fast, clean preamps beautifully gooey, when the situation calls for it," he said. "Best of all, the MIO Console will allow me to record the clean signal and the character signal so that I can save the final decision for the mix. Metric Halo really thought of everything."