MH Character
A bucket full of old school goodness.....
Character is a plug-in that lets you add the luscious distortion characteristics of classic analog circuits to your source tracks. To create Character we asked top flight tracking, mixing and mastering engineers to send us their favorite analog hardware; the mic pres, DIs and EQs that they used for recording, mixing and mastering. We then used SpectraFoo to measure the ways that these processors add lovely, gooey analog distortion to the sound run through them and modeled this distortion using our proprietary +DSP technology.
Character provides over 20 different models, incorporating the sound of tubes, transformers and solid state devices. Character has a Drive control (and autodrive) to allow you to push the distortion even harder for over-the-top sound mangling.
As Ed Abbott of Universal Mastering says, "Character is so cool, because it has all of the good stuff and none of the bad. Who ever heard of noiseless, phase coherent non-linear distortion? To the best of my knowledge it's never been done!" And Rob Caggiano (Guitarist for Anthrax, producer and engineer) adds, "I tended to use the 'Classic British' character setting on the ULN-8's mic pres, quite a bit. It just sounds awesome! It gave the guitars and vocals exactly the tone I was looking for, and it even delivered an aggressive sound for a conga percussion riff!"
"It's like having this cool little analog desk – it's digital, but you can put Character on it." - Charlie Pilzer, Grammy Award Winning Mastering Engineer and Musician.
Try it today — You'll love it!
Price: $179 - On Sale Now: $89  — Or purchase as part of the Production Bundle at a substantial discount.
Key Features
Provides 20 different Character Models
Oversampled and antialiased for analog euphonic distortion
Manual Drive control - to set how hard you hit the distortion
Autodrive - to enable consistent distortion for all signal levels
Output Gain - to level match
Adjustable UI size
MH Preset Manager - Provides cross-platform presets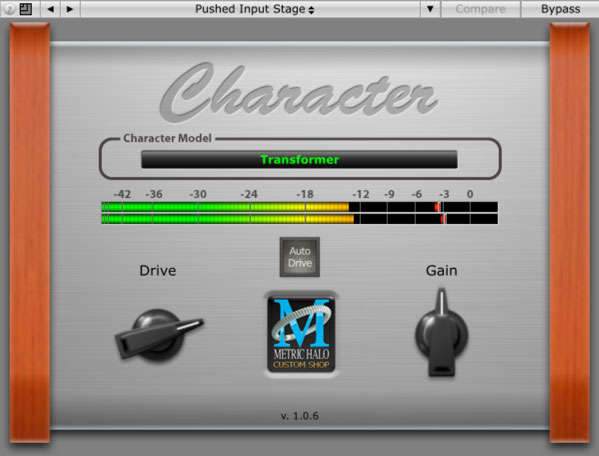 Try It Free for 30 Days
We want you to hear how Metric Halo can bring your mixes to the next level – that's why we have a free, fully functional 30-day trial for MH Character included in the Production Bundle Trial.
Try all the plugins in the Production Bundle for yourself today!
Is MH Character for you?
Engineers/Producers/Remixers/Musicians
Rely on the best sound quality available with Metric Halo's award-winning DSP.
Add subtle euphonic distortion to enhance your tracks.
Emulate the characteristics of classic devices on clean tracks.
Insert on every track for an analog-sounding mixer.
Use with high-drive for special effects.
Use subtle settings to add the gloss and sheen of classic analog tube and solid-state input stages.
Get the soft saturation characteristics of a transformer coupled analog mixer.
Get quick results with the many provided Metric Halo presets.
Get inspired!
Tech Specs
System Requirements
Mac OS X 10.8.5 or newer. Intel Processor or Apple Silicon. AU, VST, or AAX (Pro Tools 11 & newer DSP & Native) host. 64 bit.
Windows 7 or newer. Intel Processor. VST or AAX (Pro Tools 10, 11 & 12 DSP & Native) host. 32 & 64 bit.
Licensing Requirements
iLok.com account.
iLok dongle is optional — you may install the license on iLok for portability.
Only one license required – works on all supported platforms.
Documentation [PDF]
MH Character User's Guide