MH Multiband Dynamics
Sometimes the best EQ is a compressor
Multiband Dynamics is a plug-in that allows you to add clarity, warmth and punch to your mix. It shapes timbral quality of your audio by running it through a three-band crossover, and providing independent compression in each frequency range before summing the result through a limiter. Without compression, you can broadly shape the timbre of your tracks, and if you need dynamic range control or dynamic EQ, simply enable the compressor for the band.
Multiband Dynamics is an essential tool for mixing and mastering, but can also be used for sound design and other audio processing.
Grammy Award-Winning Engineer Gary Noble found that "The Multiband Dynamics processor recently helped me rescue part of a song," he shared. "A break included a bass synth that was completely different from the bass texture used in the rest of the song. Raw, the new bass just didn't fit in the song. But with a few moments and the Multiband Dynamics processor, I was able to lock it right in."
Grammy Award-Winning Engineer Tony Maserati adds, "Metric Halo has a long history of solid performance that uses surprisingly little DSP resources. A testament to Metric Halo's stability is the fact that I'm now using Metric Halo's Multiband Dynamics plug-in on my mix bus. That's unusual for me, and I wouldn't do that if I wasn't completely confident."
Dynamics in modern recordings is always a challenge, and Grammy Award-Winning Producer and Engineer Julian King has found that "Unfortunately dynamic range in commercial recordings is almost non-existent and there seems to be an expectation for songs to be nearly full scale from start to finish," continued King. "My job is to create the impression of dynamics in the mix even if they aren't really there, as there has to be some lift as you transition from, say, a verse to a chorus. My mentor Lynn Peterzell called this "illusionary dynamics." The Metric Halo Multiband Dynamics does a great job of keeping things nice and full and musical while still delivering a modern, full-scale output. It does its job, but you don't sense that it is beating up the music."
Try it today — You'll love it!
Price: $179 - On Sale Now: $89  — Or purchase as part of the Production Bundle at a substantial discount.
Key Features
Low, mid, & high band compressors with selectable auto gain
Comprehensive master-slave linking between bands
Post-compressor limiter for level maximization
Dynamic Transfer function to show the overall response
SpectraFoo™ spectrum analysis built-in
Scalable gain reduction meters
Adjustable UI size
MH Preset Manager - Provides cross-platform presets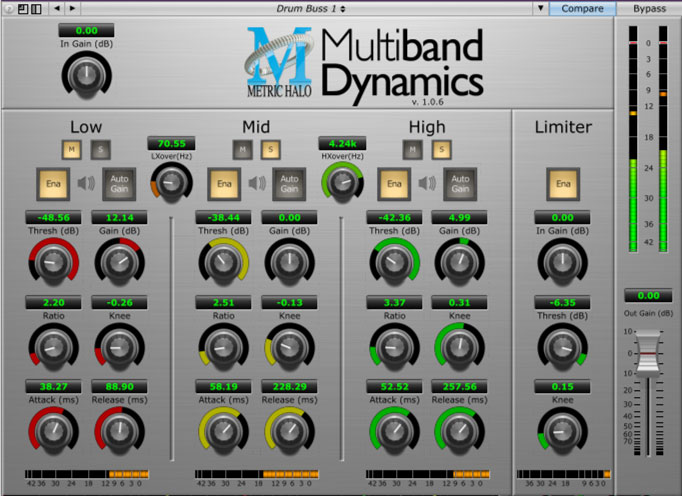 Try It Free for 30 Days
We want you to hear how Metric Halo can bring your mixes to the next level – that's why we have a free, fully functional 30-day trial for MH Multiband Dynamics included in the Production Bundle Trial.
Try all the plugins in the Production Bundle for yourself today!
Is MH Multiband Dynamics for you?
Mix Engineers
Rely on the best sound quality available with Metric Halo's award-winning DSP.
Add clarity, warmth and punch to your mix.
Make room in the mix for tracks that are getting stomped.
Get inspired!
Mastering Engineers
Maximize level without losing apparent dynamics.
Achieve broad equalization with high precision.
Sound Designers
Mangle sounds as desired.
Tech Specs
System Requirements
Mac OS X 10.8.5 or newer. Intel Processor or Apple Silicon. AU, VST, or AAX (Pro Tools 11 & newer DSP & Native) host. 64 bit.
Windows 7 or newer. Intel Processor. VST or AAX (Pro Tools 10, 11 & 12 DSP & Native) host. 32 & 64 bit.
Licensing Requirements
iLok.com account.
iLok dongle is optional — you may install the license on iLok for portability.
Only one license required – works on all supported platforms.
Documentation [PDF]
MH Multiband Dynamics User's Guide