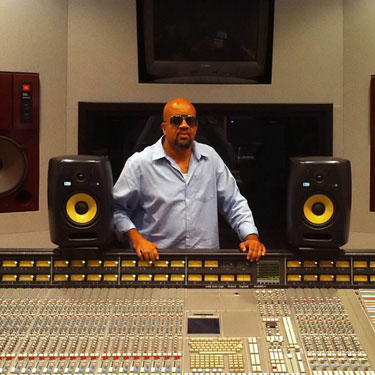 Gary Noble is an adept manager of a Twitter feed, a Google+ account, and a blog that will resonate with anyone in the pro audio recording industry. But despite, or perhaps because of his active Internet presence, Noble maintains a busy schedule of recording and mixing sessions.
In addition to a long list of highly-respected artists who haven't yet made it to "household name" status, Noble has worked with Amy Winehouse, Ricky Martin, Estelle, and Whitney Houston, often with producer Salaam Remi. His work with Amy Winehouse earned him a Grammy Award. As evidenced by his informative blog, Noble is a passionate advocate of the tools and techniques that deliver successful recordings. Metric Halo products, including ChannelStrip 3 and the Production Bundle collection of plug-ins, SpectraFoo signal analysis software, and the eighteen-channel 2882 interface, have proven themselves worthy of Noble's respect.
"It's really hard for me to believe, but I've been in this business for twenty years now," said Noble. "I've been a fan of Metric Halo's hardware and software for much of that time." Currently, he's especially excited about the ChannelStrip 3 plug-in, which operates on the Pro Tools platform and is available either independently or as part of Metric Halo's new Production Bundle. He recently used the Production Bundle on Shhhean's Internet-leaked hit, "Say Hey," produced by Carlisle Young and Dwayne Shippy and currently on a project with the Belgian sensation Selah Sue featuring J. Cole produced by SupaDups.
"I love the new features on ChannelStrip 3," he said. "The incorporation of SpectraFoo spectrum analysis on the EQ and side-chain graphs is obviously very useful. New character settings allow me to operate ChannelStrip 3 either transparently [no 'character'] or with selectable color. They even added a limiter, so now it really is a go-to plug-in, with a gate, a compressor, a limiter, and EQ. Like ChannelStrip 2, it is efficient. I'll often put ChannelStrip 3 on every channel and then use it - or not - as the situation requires." He also added that the ability to resize the interface window is a welcome update!
Noble is also enjoying the other elements in the Metric Halo Production Bundle. "The Multiband Dynamics processor recently helped me rescue part of a song," he shared. "A break included a bass synth that was completely different from the bass texture used in the rest of the song. Raw, the new bass just didn't fit in the song. But with a few moments and the Multiband Dynamics processor, I was able to lock it right in." Other favorites include the HaloVerb and TransientControl.
Because Noble's talents are in demand, he's often asked to record or mix at studios that he's never been to before. If he's working on a hardware console, he'll take a feed from the mains into Metric Halo's SpectraFoo software. If he's mixing in the box, he'll route the main output to SpectraFoo using MIO Console. "SpectraFoo is an essential tool," he said. "I keep the phase plots and spectrum analyzers up, and I now know from experience how the visual information in SpectraFoo connects with what I hear. A lot of rooms have problems, especially in the low end. By comparing the visual with what I'm hearing, I can tell immediately if there is an issue with the low-end reproduction in a room that's new to me." With that knowledge, Noble can compensate appropriately so as to still deliver a mix that will translate everywhere. In addition, he uses SpectraFoo to verify he's making good use of all 24 bits of information in a mix.
For half of his career, a full decade, Noble has relied on his Metric Halo 2882 preamp/interface. "Now that Pro Tools allows third-party interfaces, I use my 2882 constantly," he said. "It's my main interface. I want to upgrade it to a 2882 Enhanced, but I can't part with it for even a few days! The fidelity is fantastic - other manufacturers have been playing catch-up for years, and the 2882 (never mind the ULN-8!) is still at the top of the pack. I'm especially happy with the way the 2882 interfaces works with MIO Console. It allows me to send signals all over the place with imperceptible latency, which makes for easy monitoring or live applications."