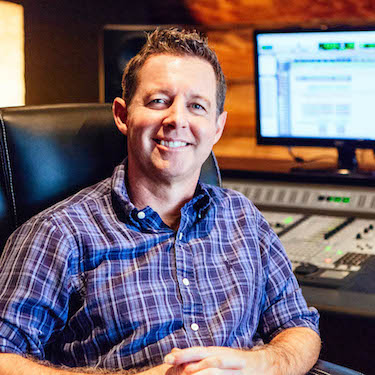 NASHVILLE, TENNESSEE: Mix engineer Billy Decker scored his first #1 single in 2006 with Rodney Atkins' "If You're Going Through Hell," which is among the first (if not the first) #1 country song to be mixed entirely in Pro Tools and bounced to disc. He recently celebrated his eighth #1 single with Parmalee's "Carolina." An in-demand engineer stationed in Nashville, Decker gracefully negotiates the happy demands of a 22-year marriage and two children by maintaining a rigorous work schedule. "I come in at 8:30 in the morning and leave by 5:30 or 6:00," he said. "I mix entirely in Pro Tools, where instant recall of everything allows me to juggle multiple projects at the same time."
His knack for delivering radio-friendly mixes that play to the artists' strengths has earned him work with a who's who of country music talent: Darius Rucker, Kenny Chesney, Jason Aldean, Colt Ford, Montgomery Gentry, Frankie Ballard, Brett Michaels, Bubba Sparxxx, Josh Thompson, Josh Kelly, Kenny Loggins, Trace Adkins, John Michael Montgomery, and Billy Dean, in addition to the already-mentioned Rodney Atkins and Parmalee. As far back as he can remember, Decker has been using Metric Halo's ChannelStrip plug-in, including all of his #1 songs, and he recently added Metric Halo's Production Bundle plug-in collection to his streamlined workflow.
"I once found myself in a situation without ChannelStrip, and I tried to mix anyway," Decker laughed. "It didn't work. The mix sounded terrible, and I won't ever try it again. ChannelStrip is absolutely indispensible to everything I do." Basically, everything he's ever mixed has ChannelStrip all over it. Apart from handling all of his routine and unusual equalization tasks, Decker relies on ChannelStrip for the all-important vocal compression. "I typically run three or four instances of ChannelStrip to get multiple compressors going at the same time," he said. "Each compressor does a little bit, and in a different way, so that in the end I get a vocal that's locked right in your face and that requires almost no gain riding. Recently, I've started adding ChannelStrip's limiter at the end, which gives me a little bit more control and smooths out the top end."
To keep his workflow speedy, Decker doesn't fool around trying to listen for the right frequency to de-ess. He uses Metric Halo's SpectraFoo sound analysis software, which is always running in the background to quickly diagnose issues. "That gives me the right starting point, and from there, yes, I use my ears to dial it in," he said. "I use Metric Halo's Precision DeEsser plug-in to do the de-essing; actually, I use two instances. One for traditional de-essing and the second for what I call 'de-honking.' Using so much compression brings a lot of junk to the surface, including the nasty nasal sound that pretty much every voice has between 1.5kHz and 2kHz. By setting the second Precision DeEsser to that frequency, everything smooths out and sounds much nicer. I've used a lot of de-esser plug-ins, but I find that Metric Halo's version is noticeably smoother and more transparent. Where other plug-ins can sound grainy and degrade the signal, Precision DeEsser is colorless and pleasant."
Decker has also been enjoying Metric Halo's TransientControl plug-in for snares and toms. "Sam Hunt's 'Leave The Night On' is climbing the charts, and it's got TransientControl all over the drums," Decker said. "It set a record for the most-added debut for a male country artist. I love the sound I get from TransientControl. I used to use its main competitor, but Metric Halo's version sounds smoother. It tops a little tighter, has a better release, and a cleaner decay. I'd say that TransientControl rolls over each peak rather than falling over it. I've been very pleased." Hunt's single also contains Metric Halo's HaloVerb on the snare. "I usually like plates on my snare drum with no pre-delay," Decker continued. "For Sam's single, I used a medium plate preset with a 700-800ms decay. It's the perfect snare reverb – very thick and three-dimensional. After every snare hit, I can hear the little bits of dust crumbling in the background, little fairies floating around in the background. It's very deep!"
Although collaborators frequently ask Decker to mix on a console at such-and-such famous studio, he staunchly refuses. "Technology has come a long way," he said. "Digital has caught up, and it's a much faster way to work. If you can turn on the radio and tell me which songs were mixed in the box and which were mixed on a console, well, I'll buy you dinner. Hell, I'll buy ya the whole restaurant!"