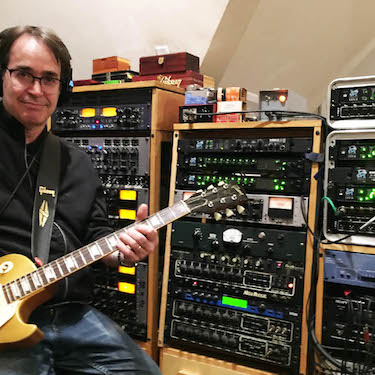 Whether in the studio or on the road, Hanson relies on Metric Halo hardware A/D & D/A conversion, Metric Halo preamps, and Metric Halo Production Bundle plug-ins.
MILWAUKEE, WISCONSIN: MidCoast Music is a hard-working outfit of producers, songwriters, musicians, and publishers headquartered on the shores of the Great Lakes in Milwaukee, Wisconsin. With twenty-plus years in the production music business, production credits stretching back to the 1970s, and catalogs with industry powerhouse Warner/Chappell Production Music, MidCoast Music has carved out a niche for itself by consistently delivering inspired material across a huge range of genres for television, film, and online media. In addition to its core group of musicians, MidCoast Music draws on a talent pool that includes Matt Sorum (Guns N' Roses, Velvet Revolver), Robben Ford (Bob Dylan, Joni Mitchell, Miles Davis), Joe Bonamassa, Roscoe Beck (Leonard Cohen), Jon Cleary (Michael Jackson), Victor De Lorenzo (Violent Femmes), and countless others, and it has credits with every major network (from ABC to Zoom!) and practically every show you've ever seen (from the Academy Awards to the Super Bowl to WWF Smackdown!).
MidCoast Music owner, executive producer, and talented guitarist Chris Hanson keeps busy recording new material in MidCoast Music's dedicated studio and on location around Milwaukee, the Midwest, and the nation. "We have two main catalogs at MidCoast Music – MidCoast Music Artist Songs and the MidCoast Wired Catalog," Hanson explained. "The Artist Songs Catalog features artists and bands who have a life outside the world of production music, and we work with them to craft and record material that satisfies the requirements for production music while retaining the soul of their original creations. The Wired Catalog is more traditional production music created by composers with production music in mind at the outset. I end up recording a lot of the music in our catalogs and have worked with everything from singer-songwriters to traditional rock combos to full orchestras in every imaginable genre."
Whether in the studio or on the road, Hanson relies on Metric Halo hardware A/D & D/A conversion, Metric Halo preamps, and Metric Halo Production Bundle plug-ins. In fact, Hanson built the studio around Metric Halo conversion: MidCoast Music owns four Metric Halo LIO-8 converters (8 in/out each), one Metric Halo ULN-8 preamp/converter (8 in/out), one Metric Halo 2882 interface (8 in/out), and one Metric Halo ULN-2 preamp/converter (2 in/out). The ULN-8, 2882, and ULN-2 regularly travel with Hanson for remote recordings, and two of the LIO-8s are ready to travel as well for remote sessions that require large channel counts.
"All of the Metric Halo interfaces work flawlessly with all of the major DAWs, which is critical because we regularly bounce back and forth between Digital Performer, Pro Tools, Logic, soundBlade, and even Cubase," Hanson said. "That's especially appreciated for our remote sessions, where we have plenty of other things to worry about. Having a solid Metric Halo interface that works every time makes it possible to focus on the performance and the sound – not the technical details. In addition, I love Metric Halo's preamps – they stand up there with our high-end hardware preamps back at the studio!"
After many years using another respected manufacturer's converters, Hanson went all-in on Metric Halo for MidCoast Music's studio after experiencing the thrill of sonic details that the remote ULN-8 could reproduce in the studio. "I suspect I'm not the only person who has built out a studio around Metric Halo conversion," he said. "It's just so damn good! The first time I stemmed out a mix through Metric Halo, my jaw dropped. This is the very best hybrid analog/digital studio solution I've ever heard." Hanson pairs the Metric Halo hardware with analog processors, especially Manley gear. His usual studio recording work flow involves primarily Manley preamps fed through the Metric Halo converters and into whichever DAW makes sense for a given project. He appreciates the LIO-8 and ULN-8 line outs, which give him a zero-latency solution for headphone mixes. His usual mix workflow involves building stem mixes in the box, which then go out through the Metric Halo converters, through a series of Manley mixers, through a two-channel Manley compressor, and back into the digital domain via the Metric Halo converters.
Hanson uses Metric Halo Production Bundle plug-ins in the studio and especially on remote sessions, where bringing extra hardware is a burden. "Metric Halo plug-ins are really indispensible," he said. "I know a lot of manufacturers are coming out with a lot of great plug-ins these days, but when push comes to shove and I have to get the job done and done well, the Metric Halo versions do everything the other guys do and more… and Metric Halo does it with better sound and functionality."
Hanson is especially into Metric Halo ChannelStrip, Character, TransientControl, and Multiband Expander. "I've been using Metric Halo ChannelStrip since it came out in 1998," he said. "I love that the frequencies aren't over-hyped. I can really shape the sound without coloring it, although it's capable of coloring the sound as well! Really, you could put me on a desert island with just a Metric Halo ULN-8, Metric Halo ChannelStrip, and a couple of good microphones and I'd basically be able to do what I do in the studio. In fact, I did exactly that at a vacation cottage here in Wisconsin!" He cites Metric Halo Character's ability to add subtle distortions to tracks that, unlike other saturation plug-ins, adds to a track and helps hold a mix together. He continued, "Metric Halo TransientControl is the best transient plug-in on the market – it's punchier and more articulate than the other leading plug-ins. I'm also a big fan of using Metric Halo Multiband Expander to do frequency-sensitive noise reduction."