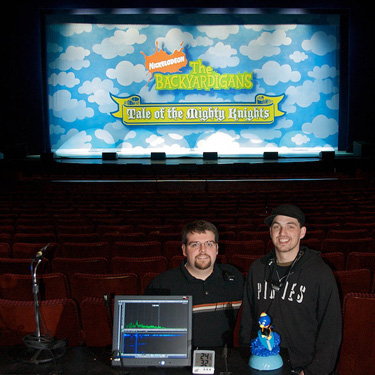 The Backyardigans Audio Team – Phillip Mather, A1 (mixer), and Chris Ransom, A2 (RF handler and backstage support)
HOPEWELL JUNCTION, NEW YORK – SEPTEMBER 2008: Nick Jr. television favorite "The Backyardigans" have embarked on a 'rocktacular medieval adventure' across the U.S. with a Metric Halo system that unusually integrates sound system analysis and playback into a single setup. Conceived and implemented by associate designer Allen Rowand for sound designer Kai Harada, the integrated Metric Halo Mobile I/O system and SpectraFoo software speeds up the show's load-in and tuning process, while also reducing equipment and cost.
"These small tours have very little time to set up and check the quality of the sound," explains Rowand, who has worked for several years as an advanced sound engineer for the highly successful U.S. touring show of the Broadway hit "Wicked," on which Harada is associate designer. "What we've done is built a SpectraFoo analysis system to do room measurement into the overall sound system, so the same interfaces that are doing the playback for the show are also the inputs for the analysis for the room. In most shows, such as 'Wicked,' which is a multi-million-dollar musical, you have a separate computer and setup to measure the room."
The Metric Halo system for "The Backyardigans Live! Tale of the Mighty Knights" comprises two MIO 2882+DSP audio interface units plus a pair of Apple Mac Mini computers running QLab show control software. "It's sixteen tracks of playback, with eight channels pretty much dedicated to vocals and eight channels dedicated to music and sound effects," Rowand elaborates. "The setup offers failsafe redundancy. We're coming out eight channels analog and eight channels over ADAT optical per box. Those are going into switchers so that they can select which system is being sent to the Yamaha PM5D console."
As Rowand notes, the hour that he typically has to tune the "Wicked" system following a day-and-a-half load-in is a luxury compared to the Backyardigans' show. There are only six actors and no musicians to deal with, he says, "But while it's small, it's a technically advanced system using the same technology that is used on bigger shows. And they might start loading in at 6 or 8 a.m. and have a show at 2 p.m. Anything that we can do to make it easier for the engineer to get good sound is money and time well spent."
Once the sound system is in the venue, says Rowand, "The engineer turns the system on, starts up SpectraFoo, has iTunes playing out through the system with his soundcheck music, and he has one place where he can do everything that he needs to do. All he has to do is put out two microphones and he's able to tune the system. Using multiple measurement microphones is the key to quick analysis. It allows the operator to compare multiple locations live and compute multiple delays quickly. Given the lack of time allotted to load in a small show, we felt it imperative to give the engineer as many tools as possible to speed up the tuning process."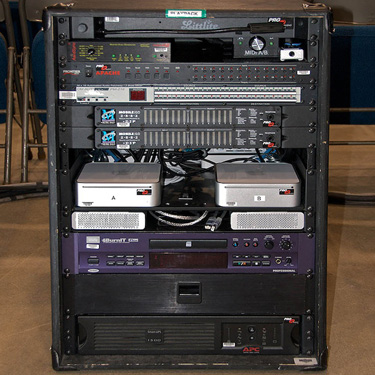 Playback rack
Rowand also utilized his 2882 2d Expanded interface to access Pro Tools, Logic Pro and Melodyne while creating cues during the production process, while Harada worked in Pro Tools. Discovering that the premixed stereo music offered less control than the preferred stems, says Rowand, "I came up with a software patch using the +DSP in the interface to take two channels and create a four-channel mix – left, center, right and subwoofer. We're using side stacks with a center cluster, and in some locations, specifically bigger venues such as stadiums, the sound system for the tour may be supplemented by a sound system from a local provider. So that four-channel mix can be brought in with each channel on its own fader on the console and the operator, without having to go in and reprogram anything, can rebalance the sound system from venue to venue."
Kai Harada, sound designer agreed:  "The interfaces worked wonderfully into the system for both playback and room tuning – not to mention they sound good. The DSP processes are really quite amazing. We didn't utilize them to their fullest capability, but the process to take stereo tracks and turn them into LCR+LF files was fantastic and worked very well with our system design. To have so much power in such a small box is wonderful."