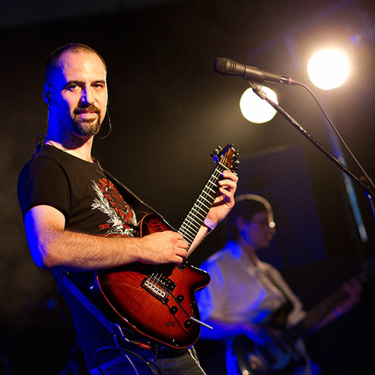 Geert Bevin relies on Metric Halo FireWire interfaces for both recording and live performances of indie-pop-rock band Flytecase. ©2Shadowland
MANAGE, BELGIUM: Geert Bevin has been coding computers and making music since he was twelve years old. Now a few decades later, Bevin splits his time between Eigenlabs, where he is a senior developer on the EigenD system in support of the revolutionary Eigenharp electronic instrument, and his indie-pop-rock band Flytecase. Both passions fully utilize his technical expertise and his cultured aesthetic sensibilities. Bevin relies on Metric Halo FireWire interfaces – one 2882, one ULN-2, and one ULN-8 – as well as Metric Halo's DSP capabilities to deliver exacting recordings in the studio and sophisticated setups on stage.
Bevin typically uses the Metric Halo 2882 on one MacBook Pro and the Metric Halo ULN-2 and ULN-8 on a second MacBook Pro. The Metric Halo +DSP licenses allow him to not only take advantage of the interfaces' superior mic preamps, DIs, and converter technology, but also their powerful DSP capability. "I consider the +DSP to be as essential as the interface itself," noted Bevin. He uses Reaper as a DAW and splits monitoring duty between a pair of Adam A7 nearfields, Etymotic Research ER-4P ear monitors, and Sennheiser HD-600 open headphones. "Thanks to the Metric Halo MIO recording platform and its flexible, built-in monitor control, it's easy to switch among these monitoring options quickly," he said. He mixes using a Euphonix MC-Mix surface and relies on Metric Halo DSP as much as possible: "The Metric Halo 80-bit DSP engine makes everything sound much cleaner, more detailed, and more accurately imaged."
With Bevin in the driver's seat and Metric Halo under the hood, Flytecase's live setup is sophisticated and robust. Indeed, Bevin delivers the band's compelling music with professional polish that is normally reserved for touring shows with a full complement of techs behind the scene. The band brings all its own mics that, together with a range of ¼-inch line outputs, optical outputs, and AES digital outputs, connect into the three Metric Halo interfaces. During rehearsal, Bevin creates custom personal monitor mixes for each band member using the Metric Halo analog outputs, which obviates the need for headphone amps.
Then they use the exact same setup and monitor mixes on stage. Indeed, if the venue is small, Bevin brings a pair of powered RCF speakers to make Flytecase independent of the house PA. A trusted friend then delivers the mix from anywhere in the audience using an iPad! "The nice thing about this is that we always use the same setup, during rehearsal and for any type of concert," he said. "This means that there are no surprises, the gear fits in a very portable 4U rack, and we are totally independent for our monitoring needs. In addition, we can always record our performance without having to do any additional setup. We just press a button in the MIO Console to record both wet and dry signals and the show is committed to hard disc."
The Metric Halo 2882 is dedicated to Bevin's guitar sound. "I mostly use the built-in amp simulations that come with the +DSP," he said. "Of all the virtual guitar software I have tried, it is by far and away the most stable and the best sounding. Thanks to MIOConsoleConnect, I'm able to create and save a new mixer layout with appropriate effects for each song in our set. These are saved as Audio Unit presets and I use Plogue Bidule to convert the MIDI messages of my foot pedal to signals that change the active preset number of MIOConsoleConnect. As I flick through programs on the foot pedal, new mixer setups are automatically loaded that change my guitar sound appropriately. Additionally, I also use different channel strips within the same setup to instantly switch between different sounds during the same song. Metric Halo's MIO Console easily handles industry controls protocols and makes this type of switching possible."
"Since I started using Metric Halo gear a year and a half ago," he continued, "I've gradually adopted it for everything that is even vaguely related to audio and sound. I can't imagine functioning without it, as there are no real alternatives. Nothing else combines Metric Halo's level of flexibility, portability, stellar sound, and great DSP. Apart from the products themselves, the community of Metric Halo users is one of the most valuable pro audio resources I've encountered on the internet. I quickly gained a mastery of the Metric Halo hardware and software with their help."