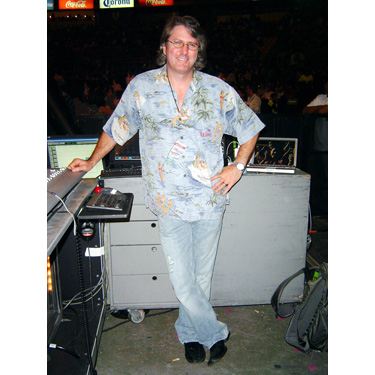 FOH engineer Brad Madix, who is going out with Canadian-rockers Rush, is taking Metric Halo's SpectraFoo along for the tour as it can run an FFT and RTA simultaneously across multiple inputs.
TORONTO, CANADA: Front-of-house engineer Brad Madix will have an opportunity to reacquaint himself with an old friend on his next gig. Madix, who embarks on an extensive international tour with Canadian rock legends Rush in mid-June, is looking forward to once again working with Metric Halo's SpectraFoo analysis software after a six-month separation.
Madix shares that, after replacing his computer in mid-2006, he has since been working with another well-known set of measurement tools and has come to a realization: "SpectraFoo is so much better. It has a huge advantage over the other software, in my experience, which is being able to run an FFT and an RTA simultaneously across multiple inputs."
Madix, who is returning to front-of-house for Rush after first mixing the band for part of the Roll the Bones Tour, puts SpectraFoo to good use, not only during system setup but, also throughout the show. "I use it mainly for tuning the PA - that's the big job that it does - but also for stuff in the mix. Even though I'm mixing live, I do use it for 'mastering,' metering and looking at phase."
SpectraFoo is also superior to other systems in its ability to switch between measurements and displays, Madix believes. "You can save the window sets so that you can switch very quickly from looking at the left and right output of the console, looking at a phase scope and mastering metering, then switching over to see an RTA view on top of an FFT analysis between the output of the desk and a microphone. Nothing else is quite like that, as far as I know."
"Both tools are useful. FFT and an RTA, each on their own, have some value during a show. But using them simultaneously can help very quickly pinpoint where a problem lies," he explains. "If I think I hear some problem with the response of the PA in the room, if I look and see it's just on the RTA and not on the FFT then I know it's something that I'm doing. But if it's on both displays then I know it's something in the room. Right away I know if it's better to go to the EQ on the console or to the EQ on the system."
In order to replicate their studio recordings, each member of the three-piece band often plays or triggers other sounds in addition to their primary instrument onstage. That can be a challenge, notes Madix, especially in the low frequencies, but the Metric Halo software is equal to the task. "For a band like Rush, where there are multiple bass inputs, SpectraFoo has come in handy a few times for correlating the phase of three or four different bass inputs. It can be hard to hear. You know it's not quite right, but when things are close but not quite right it's really tempting to start twiddling the EQ. It's nice to have the computer sitting off to the side and be able to pull up a phase scope and see what is not right."
A musician who first began as a FOH engineer in the mid-1980s, Madix has worked with the Psychedelic Furs, Def Leppard, Queensrÿche and Shania Twain over the years, as well as, most recently, Shakira. Following a stint with Two, which featured Jerry Cantrell and Rob Halford, Madix was recommended by Halford's guitarist, John Lowery, for the FOH position with his next project, playing with Marilyn Manson.
"One of the first tours I did with SpectraFoo was with Marilyn Manson in 1999 or 2000," recalls Madix, who adopted SpectraFoo after discovering the fast Fourier transfer-based tool set at an industry trade show. "The funny thing about that music, which I like a lot, is that sometimes it's hard to tell when something is 'broken.' There's a lot of stuff that's intentionally distorted. It was useful to go in and find the things that actually were not working correctly, as opposed to the stuff that was supposed to sound like that. With a band like Manson, who knows what someone is doing up there! It may not be a matter of equalizing the PA."
Following rehearsals throughout May, Rush begins their latest international tour in Atlanta, Georgia in mid-June. A comprehensive schedule of U.S. dates is followed by a tour of Canada, followed by shows in the U.K. and Europe throughout the month of October. The band, which has achieved gold, platinum or multi-platinum status for twenty-three of its albums, is touring in support of a brand new full-length release, "Snakes & Arrows."