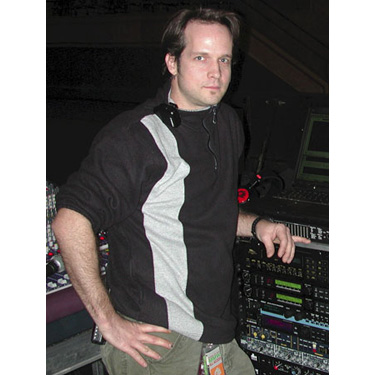 No trucks for Philip Harvey - Instead of a remote recording truck, Harvey used an Apple laptop computer and a 24-track Mobile I/O rig to record a six-week tour with WB/Reprise artists The Secret Machines.
NEW YORK, NEW YORK: Never a fan of bulky digital audio tape machines, much less remote recording trucks, engineer Philip Harvey was one of the first to adopt the lightweight and streamlined solution offered by Metric Halo for live recording. Harvey mixes front-of-house for WB/Reprise artists, The Secret Machines, and recently completed a six-week U.S. tour with the band during which he recorded shows using a 24-track Metric Halo rig that occupied just three rack spaces, plus a PowerBook and a FireWire hard drive.
Pulling double duty as both the live sound and recording engineer was largely dependent on the available mixing console, says Harvey, who carries a Metric Halo ULN2+DSP interface for SpectraFoo analysis in addition to three Mobile I/O 2882+DSP units on tour. "I have a 22-channel input list for The Secret Machines. And I'll record the same channels that I'm running live plus two Schoeps MK4 audience mics. We didn't carry our own console on this run, so multi-track recordings have only been possible when we have had a Midas Heritage 3000 or an XL4, with pre-fader, pre-EQ direct outputs."
He elaborates, "I'll take the preamp sends from the direct outs of the mixing console and send them to the 24 analog inputs of the three Mobile I/O 2882+DSP. On this last tour I was only able to record 24 tracks on three shows. The rest of the time, when limited by the FOH console, I'd run four channels-the board left and right mix, plus the stereo mics in the house."
The idea to record the shows was simply as an introduction and to demonstrate the ease with which a high-quality live performance recording can be achieved, according to Harvey. "Just having that capability has blown the minds of The Secret Machines. I was showing that with the right console we could multi-track an entire tour. On our next tour, we'll bring out a complete FOH/monitor system, except for racks and stacks, and with that console and a couple of hard drives, we can document and record an entire tour. Then come back, find the best songs, and mix them down for a live release or whatever comes of it."
However, there's just one caveat to recording so many performances. "The main problem is going back and listening to all that material to find the best songs," he says, noting that the recent tour generated over 20 hours of recordings. But the facilities of Metric Halo's Mobile I/O make the task of a live mixdown very simple, he continues. "You can add all the Mobile I/O boxes together through each unit's corresponding digital bus. The first eight analog input tracks can be assigned/connected to the second Mobile I/O as an AES/EBU digital bus input. Then those 16 channels can be assigned to the third unit's digital bus input. I just record the digital bus outputs of the third unit for a rough mixdown. The band can then listen and analyze the performances and decide which songs they want to work on and mix."
Harvey is also a big proponent of Metric Halo's audio analysis tool, SpectraFoo, for live sound system calibration. But as he notes, with only one laptop containing a single processor at his disposal, recording typically takes precedence. "If it's a four-channel recording I'll use SpectraFoo, with a single Mobile I/O 2882+DSP to set up a sound system's time alignment and equalization. Then quit to avoid any potential CPU glitches, and record with Metric Halo's Record Panel software, which is built into the Mobile I/O's GUI application."
Harvey was an early adopter of the Mobile I/O system for live recording. He put his system together with the help of Metric Halo founders, BJ and Joe Buchalter, during a seven-year stint working with Blue Note jazz artists Medeski, Martin and Wood. "I did a 32-channel recording of two of their tours in 2001, and they have three 200-gig hard drives full of music in their studio to do with as they wish."
Early last year, he had an opportunity to take his Metric Halo setup to France. "I created a 32-channel, 24/96 hi-rez recording of Patricia Barber, another Blue Note jazz artist." The result, "Live: A Fortnight In France," a CD release which brings together live performances from several venues all over the country in March and April by the singer/pianist and her quartet.
Having spent most of 2004 working with Ozomatli, Bebel Gilberto, and The Mavericks, Harvey, who runs a small production/recording company called PilotLight Audio, joined up with The Secret Machines at the end of the year. "My first tour with them was as support for Interpol in November of last year. I'd been touring really hard since February and needed to take some time off, but they were going through engineers and hadn't found a complementary match. Their tour manager at the time kept calling me saying, 'I've found the perfect band for you, you have to do this tour.' And coincidentally Interpol's engineer, Harley Zinker, is a good friend of mine, so I figured, if he's driving this boat, the production would be top notch and professional. As soon as I started working with The Secret Machines I completely fell in love with their music and live performances.
"I'm very excited to be working with such a talented band and we have just scratched the surface with the capabilities of the Metric Halo Mobile I/O recording rig," Harvey admits. "I have since recorded their demo material for Reprise using the Mobile I/O 2882+DSPs and ULN2+DSP in pre-production for their next CD. Metric Halo provides me with the perfect tools for a wide range of audio applications: a small mobile package with great sonic fidelity."