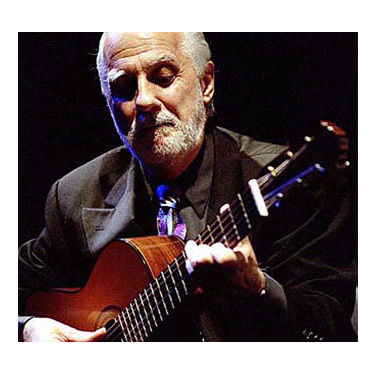 Oscar Castro-Neves, one of the founding fathers of the Bossa Nova, chooses Metric Halo's Mobile I/O for exceptional sound.
SAN DIEGO, CALIFORNIA: Music runs deep in Oscar Castro-Neves. The multi-faceted guitarist / composer / arranger / producer was there in Brazil as one of the founding fathers of Bossa Nova, along with Antonio Carlos Jobim, João Gilberto, and a few others. During his long career, Castro-Neves has led his own quartet, was featured with Sergio Mendez' Brazil 66 for fifteen albums, and has performed and recorded with such artists as Quincy Jones, Ella Fitzgerald, Herbie Hancock, Stevie Wonder, Dave Grusin, and countless others. His film credits include "Blame It On Rio," "Dirty Rotten Scoundrels," "L.A. Story," "Sister Act II," and many others.
Oscar relies on just one audio interface when he's working on his projects: The Metric Halo Mobile I/O. "The quality of the sound is fantastic," he says. "Especially the preamps. The transparency is very, very good."
He stumbled across the Mobile I/O almost by accident. "I saw one in a store, and I said, 'Gee this looks good, just right.' So I started investigating because I was looking for a new interface to replace an old interface from a French company. As soon as I tried the Mobile I/O I was sold, and I bought both the eight-channel [2882] and shortly thereafter the two-channel [ULN-2]."
Castro-Neves uses the two units for different applications. The ULN-2 is pressed into service for pre-production and two-channel recordings. "I use it often for pre-production. I record two inputs at a time, with perfect quality because of these excellent preamps. I can record at home, then burn a CD for the artist to take home and work with. In one case, the singer lived in Newport Beach, but the band was in New York. We used the ULN-2 to record at home, then converted the recordings to MP3 and emailed them with a PDF of the arrangement to the band. When the band came to record they were ready. We rehearsed on Sunday, then recorded the whole album in four days."
The 2882 is primarily used for TV and film scoring work. "For TV or where you have more tracks, the 2882 is perfect because you have the eight outputs to do a stem mix," he explains.
Portability is high on his list of features, but sound quality is his overriding concern. "The Mobile I/O is great because it's portable. There are a lot of computer interfaces on the market, but nothing beats the Mobile I/O. The others just seem to be copying."
As much as Castro-Neves appreciates his Mobile I/Os, he has as much praise for Metric Halo. "I like the liveliness of the company and the constant support and development," he says. He's also impressed with the dedicated community of Mobile I/O users. "The support on the site, the user group and everyone being so involved are just great," he continues. "It's amazing to see the community. If you don't know something, another user puts in his two cents, then Metric Halo puts in two cents - it's a very, very, strong unified user base. Everyone loves the unit."
Oscar's busy schedule finds his 2882 and ULN-2 in constant use. At the time of this interview he was producing and arranging for famed jazz-stylist Diane Schuur, journeying to Tokyo to produce/arrange for Lisa Ono, working on his own upcoming release, and juggling several other projects, including directing and arranging a night of Jobim's music at the Hollywood Bowl. "Life is good," he concludes.