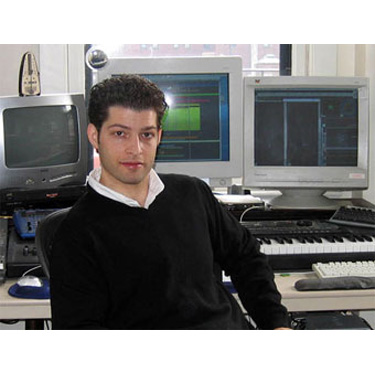 Television and film composer Daniel Antonio Srebnick has found creative freedom with Metric Halo's Mobile I/O 2882+DSP production interface.
NEW YORK, NEW YORK: Manhattan-based television and film composer Daniel Antonio Srebnick has plenty to celebrate since adopting Metric Halo's Mobile I/O 2882+DSP production interface 18 months ago. No longer tethered to the recording studio, Srebnick is enjoying the newfound creative freedom resulting from his transition from a full-blown DAW system.
Srebnick has another reason to celebrate. His contributions to the soundtrack of "The Squid and the Whale," a new independent film by writer-director Noah Baumbach, that stars Jeff Daniels, Laura Linney, Jesse Eisenberg and Owen Kline, and was co-produced by Wes Anderson and Peter Newman, will debut at the 2005 Sundance Film Festival. "I used all Metric Halo's products for that project," notes Srebnick.
Although having invested very heavily in an industry standard DAW, Srebnick, an avid Mac user, realized that the power of the new G5 would allow him to run Logic - which he uses for scoring, audio and MIDI - natively with superior results. "I wanted to move everything into my computer, run soft synths, and do as much as possible inside the box. But the one thing I needed was a great way to get in and out of the computer. I decided to go with Metric Halo."
Although he uses it mainly in his own production facility, Srebnick likes the fact that Metric Halo's FireWire powered Mobile I/O system allows him to work anywhere. "You can really just pick up and go anywhere. It's so streamlined and simple. And the sound quality, which everyone had told me was fantastic, sure enough blows my previous system out of the water. Nothing that I've heard beats the sound quality."
He has also become an avid user of Metric Halo's SpectraFoo signal analysis and metering software after being introduced to it by his Mac-audio guru, Derek Davis, and by his regular mastering engineer, Michael McDonald, at New York's Algorithm mastering facility. "SpectraFoo is just fantastic. Since I started using it my mixes are a million times better. And it's a great way to learn, because you really start to see what's going on from a technical standpoint," he enthuses.
"It's great for someone like me who didn't come from the engineering side, nor from the equipment side. I came from the instrumentalist side," continues Srebnick, originally a saxophone player. "While I was mixing my own work, I'd spend hours trying to figure things out and fix them. With SpectraFoo, you can figure it out and it makes your mixes sound so much better. Plus, it looks really cool!"
Not only less expensive than a DAW, Metric Halo's MIO also eliminates any concerns about interconnected studio equipment, he says. "You shouldn't have to invest your money back into the studio or spend all your time worrying about whether or not one of the million devices connected to the others is going to breakdown." And if there are any technical concerns, he adds, Metric Halo's service is exemplary. "The Metric Halo stuff is always rock-solid, but any time you have a question they get right back to you. They're great with their users."
Srebnick, who has written and produced themes and scores for numerous television series and specials (including ABC's "20/20" and "Primetime Live"), has also written numerous commercial spots and works in film and theater as well. He is currently working on his own record. "I started out as a saxophone player and got interested in record production, did some work with a bunch of artists, then all of a sudden found myself scoring for television. I've had several years of not doing anything of my own, so I'm trying to get back to that."