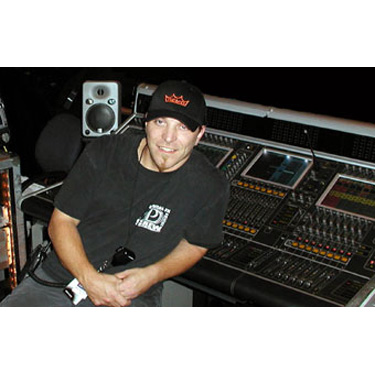 Sean Sullivan's laptop, combined with Metric Halo's Mobile I/O 2882, is his essential piece of road gear.
LOS ANGELES, CALIFORNIA: Technical specs may change from tour to tour but the one constant for any itinerant sound engineer is their laptop computer. Busy freelance engineer Sean Sullivan's laptop, combined with Metric Halo's Mobile I/O 2882, has become an essential piece of gear on the road for him. It provides critical signal analysis and metering tools via Metric Halo's SpectraFoo software, while the MIO gives him signal routing that is frequently unavailable in touring sound systems.
As Sullivan observes, "Here I am with my laptop and my Mobile I/O and I'm pretty much carrying all the tools that you could ever ask for. Whether it be analyzing a PA or mixing an album, it's got everything built into it." SpectraFoo incorporates standards-based level metering, high-speed, high-resolution spectral analysis, the unique Phase Torch, correlation metering, triggerable waveform display, power balancing, and a variety of power, envelope, and spectral histories and phase analyses.
Sullivan, who has worked with Sean "P. Diddy" Combs, Justin Timberlake, Jennifer Lopez, and 98 Degrees, and is currently on tour with Jessica Simpson, relies on SpectraFoo to provide the metering and analysis tools that he generally cannot find on the road. "Typically a touring vendor might send out an LED analyzer with not many features or functions - such as memory slots. Say you want to measure the room in twenty different spots and save twenty different presets of what the room looks like. With 'Foo being software-based, you can memorize as many snapshots as you want to take."
"The third-octave style analyzer, with which a concert sound system is typically tuned, can be recreated with SpectraFoo," he continues, "except you can have presets for how it looks. I also send my [console] solo cue buss to it and use the phase scopes. Touring boards don't have those kinds of features on them."
Additionally, Metric Halo's Mobile I/O 2882+DSP FireWire audio interface, which offers a variety of input and output formats, provides essential signal routing, as Sullivan explains. "There's really no great way to get in and out of a laptop and run SpectraFoo. There's a line input, which is fine, but there's no multiple input. The Mobile I/O turns your laptop into a miniature console, with eight analog ins and outs, AES in and out, and S/PDIF in and out. With that setup," he says, "You have a little matrix mixer and everything a console would have, except there's no surface. So that's how I interface my touring console with my laptop."
In addition to enabling the many uses to which he puts the SpectraFoo analysis tools to work, the MIO also allows Sullivan to archive performances. "I use the Mobile I/O as my interface to get into Digital Performer," he says. All Mobile I/O channels feature 24-bit, 96kHz converters, with individually selectable mic preamps, and discrete phantom power, making the unit a powerful, compact recording front-end.
He elaborates, "I send the AES output of my console - my mix buss - right into it and arm some tracks in DP. Then I also set up a stereo condenser mic at front-of-house and put that into a pair of channels in Mobile I/O and arm those in DP. So every night I record the show with an AES output from my console and a pair of phantom-powered mics at the mix position right into DP."
Sullivan also uses the MIO for playback from his laptop. "I'm an Apple user and I play the walk-in music from iTunes. So the Mobile I/O also gives you a way to get out of your computer at a professional level."
With the Mobile I/O about the same dimensions as a typical laptop, the compact set-up can go anywhere with Sullivan, who can ensure that he has all the tools he needs and with which he is familiar night after night. "I can't get that kind of stuff from vendors. To have that kind of stuff in my computer bag, whether I'm doing a tour or a one-off, means that I can set my stuff up and have my analyzers and everything set up the way I like. Plus," he concludes, "I'm still archiving my shows, recording everything the way I normally do."