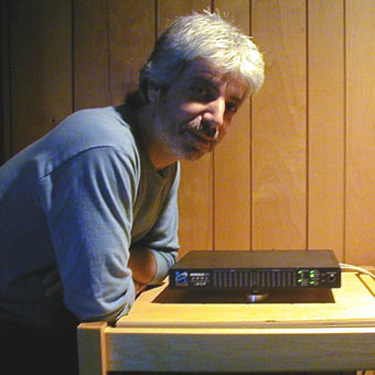 Recording/Mastering engineer, Barry Diament finds Metric Halo's Mobile I/O 2882+DSP perfect for direct to stereo location recording.
NEW YORK, NEW YORK: After more than three decades in the business, engineer Barry Diament recently expanded his services to include direct to stereo location recording. Searching for a portable and sonically transparent interface for his PowerBook, he heard about Metric Halo's Mobile I/O 2882+DSP and was thrilled to discover that it lived up to its reputation.
Diament was initially looking for an interface between his PowerBook and studio reference system for playback, he explains. "I wanted something that was up to the level of my reference system - something that would be as revealing. The first things that attracted me were the features, but the final decision was made after an audition."
Commenting on the MIO's sound quality, he says, "The D-to-A converters in the MIO are just beautiful. Connected to the system, the converters are really sweet and three-dimensional. They reveal the character of a recording, the low-level details and they preserve delicate spatial information."
"The monitoring system I use in the studio," he continues, "is very revealing of very small changes in level and EQ. I started playing with the EQs and I found they're really nice sounding and easy to work with. The MIO's transparence helps make processing decisions really fast and leaves me confident that I made the right decisions."
Plus, he adds, "I like the whole layout of the MIO console and the way it operates - it just feels good. I'm pretty knocked out by the box and can only wonder what B.J. and the folks are going to come up with in the future."
Diament has been in the business for over 30 years and mastering CDs for more than two decades. In 1983 he became one of the industry's first engineers to master for CD while working at Atlantic Records. He went independent in 1987.
"What my experience taught me was that once the signal leaves the microphones the ultimate quality of the recording has already been determined. Now, I'm starting to gravitate toward where I started, staying with the mastering but doing the whole recording, from the microphones all the way to the mastering," he says.
Diament's studio is essentially a post-recording, post-processing and mastering facility. He says, "My preferred method of recording is on location and direct to stereo, rather than in a studio. I prefer to work where a musical performance would be heard, preferably without an audience, because that's where the music sounds best."
The Metric Halo system proved to be ideal. "The portability of the MIO is very important to me, as I do a lot of location recording. Though I tend to work direct to stereo, one of the nice things about the MIO 2882 is that if I need any additional microphones there are inputs to spare."
Diament reports he has been working on several projects with Art Halperin, the last artist to be signed by John Hammond Sr. before he passed away (Hammond, a producer and talent scout, discovered Bob Dylan, Bruce Springsteen and many others). "I think he's one of the more musical and gifted guitar players I've heard in quite a while," he comments. "We first met a year ago when I mastered an album he'd been working on with Onyan, called 'Reggae Rock.'"
Indeed, the engineer's resume demonstrates a great affection for music from the Caribbean. "I was very fortunate when Island Records came to me and asked if I would re-master the 13 original Bob Marley albums," says Diament. "While it was over six very intense weeks, working with the original recordings was both a gift and a privilege."
More information about Barry's work can be found at his website, www.barrydiamentaudio.com.