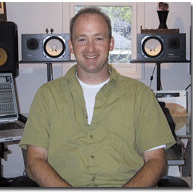 Eric Rudd
For the last 10 years, freelance recording engineer Eric Rudd has been involved with a side project that has allowed him to escape the studio and visit such exotic locales as Africa, Cyprus, Trinidad, Puerto Rico, Panama, and Hawaii. Last year, Rudd, a music coordinator for two of the Miss Universe Organization's annual pageant telecasts as well as a busy recording engineer, discovered Metric Halo Mobile I/O, a digital recording, editing and mixing solution that allows him to transition seamlessly between the worlds of music recording and broadcast.
"Having the Mobile I/O as a tool allows me to operate in a wide variety of situations that I don't think I would be able to as well with some other box," observes Rudd, who has also acted as music coordinator for "The 2000 Alma Awards" and "Nickelodeon Kid's Choice Awards." "It is such a useful tool for portable recording, editing, and mixing."
In 1992, Rudd was invited to engineer the pre-recorded music for the annual "Miss USA" pageant telecast, and has since expanded his role to also become music coordinator for "The Miss Universe Pageant." The Miss Universe Organization, a partnership between Donald J. Trump and NBC, produces the "Miss Universe," "Miss USA" and "Miss Teen USA" competitions.
Explaining his broadcast rig, Rudd says, "I use my TiBook, the Mobile I/O and Ableton's Live to do the playback for the telecast. The shows are 'live,' so the music cannot be posted. I assign music cues to buttons on my keyboard, and off we go."
Implementing Mobile I/O has allowed Rudd to streamline his setup at the pageants. "Because of the amount of music, music sources, and crossfades in the show, I was originally running two digicarts and two [360 Systems] Instant Replays on the show, along with DAT and CD," he explains. "With the Mobile I/O I can now easily have four stereo music sources from within my laptop--and switch to a fully portable studio for other recording situations when needed."
On Site Editing to Save the Day
For example, says Rudd, "When the talent on the show discovers that their song is the wrong length, or the last-minute edit they did before arriving on location is wrong, I can fire up Nuendo and the Mobile I/O and do on-site editing to save the day. Due to some of the locations from which we do the Universe show it can be difficult to get new versions sent overseas in a time-efficient manner. The Mobile I/O allows me to set up a very portable DAW in strange places, sometimes even in my hotel room."
He adds, "Last year we needed to install a makeshift voiceover booth in a hotel conference room. I set up my Mobile I/O rig on a table in the corner. It worked perfectly."
The Metric Halo system is also central to his music production setup, notes Rudd. "I generally track to Radar24, then FTP the files into my computer. I then use the Mobile I/O for my D/A when I'm doing my editing and mixing with Nuendo. I also have brought my TiBook and Mobile I/O to an artist's house to do vocals in their living room."
Rejecting the industry standard DAW in favor of Mobile I/O, Rudd states, "I was looking for a system that would allow me to do similar work, for better quality and less money. The Mobile I/O is an incredibly useful tool--and the box sounds great." He adds, "And I am very happy with the outstanding technical support of Metric Halo."
Rudd has most recently worked with Peabo Bryson, Oleta Adams, Wynonna Judd, Rita Coolidge, and Shane Minor. In 2000, he recorded and mixed music for the CBS "Charles Shultz Tribute Special" with Faith Hill. Rudd's other projects include mixing Chet Atkins' album "Almost Alone" (including "Jam Man," winner of the 1997 Grammy Award for Country Instrumental Solo).
A freelance engineer since 1992, Rudd relocated to Nashville in 1994 after a seven-year stint at Ocean Way Recording in Hollywood. He began as a runner at the award-winning studio and worked his way up to assisting some of the industry's top engineers, including Alan Sides, Kevin Killen, Bruce Swedien, Al Schmitt, George Massenburg, Glyn Johns, and Erik Zobler.