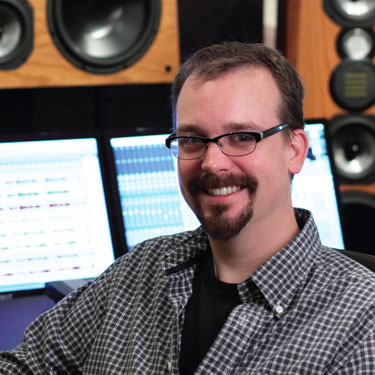 DECEMBER 2012: Sono Luminus, a Virginia-based record label dedicated to ultra-high-fidelity recordings of acoustic, classical, and early music, recently earned seven Grammy nominations. The Los Angeles Percussion Quartet's Rūpa-khandha is nominated for "Best Surround Sound Album" and Modern Mandolin Quartet's Americana is nominated for "Best Engineered Classical Album." Rūpa-khandha and Americana were both engineered by Sono Luminus' Managing Director and Head Engineer, Daniel Shores.
The label's in-house producer Dan Merceruio is nominated for "Classical Producer of the Year." Jory Vinikour's The Complete Harpsichord Works of Rameau is contending for "Best Classical Instrumental Solo." Finally, Americana, Rūpa-khandha, and ZOFO Duet's Mind Meld: Works for One Piano, Four Hands are all nominated for "Best Chamber Music/Small Ensemble." All the work represented by these seven nominations was recorded and mixed using the ULN-8, Metric Halo's flagship eight-channel combination preamp, converter, and DSP.
"We bring a very minimal philosophy to our recording process," explained Shores. "While some engineers build fabulous recordings using a lot of excellent gear – much like a painter creates with a palette of vibrant colors, I prefer to track everything in a nearly complete form on the front end. I work hard to get the right setting and the correct microphone placement – much as a photographer sets the scene and gets the right lighting to faithfully capture a moment in time."
Shores first heard the Metric Halo ULN-8 when a friend was serving as a ULN-8 beta-tester. "I immediately noticed a transparency that's lacking in other preamps and converters," he said. "What goes in is what comes out – without any color or degradation. Often, we record very fine instruments played by master musicians in gorgeous acoustical spaces. I don't want to hear the microphones or the preamp or the converters in the recording. I want to hear what my ears heard when I was standing next to the microphones. The Metric Halo ULN-8 has that level of clarity and transparency."
Shores typically uses some combination of Schoeps and DPA microphones at the front end of a Metric Halo ULN-8. Sono Luminus' recording room, mixing room, and mastering room all possess dedicated ULN-8s, and Shores travels with an additional pair for remote recordings. He typically records to Pro Tools HD at 24-bit, 192kHz and mixes using Pro Tools and Metric Halo's MIO Console. He also uses Metric Halo's +DSP resources judiciously. "We sometimes have to record in rooms with slight acoustical oddities," he said. "I've found that Metric Halo's preamp modeling software, Character, can often compensate on the back end to restore the recording." Continuing Shores' photography analogy, the Character effectively corrects for imperfect "lighting" at the time of recording, much like a darkroom adjustment.
Ironically, Americana, Rūpa-khandha, and Mind Meld: Works for One Piano, Four Hands were all recorded within six days of each other at a remote session at Skywalker Studios. The marathon engagement flip-flopped between night and day shifts, with each group coming in for a few days. Shores, of course, worked from beginning to end, and if seven Grammy nominations is any indication, somehow managed to keep his focus throughout!
Tune in to the 55th Grammy Awards ceremony, which will take place on February 10, 2013, to see the results.