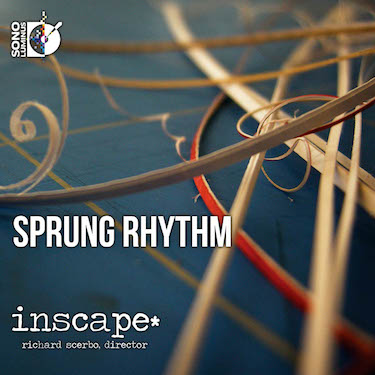 "I had two Grammy nominations in 2013, and our company, Sono Luminus, had a total of seven," said Daniel Shores, managing director and head engineer of Sono Luminus, with modesty and a hint of awe in his voice. "It seemed like everything was packed into last year, so we really weren't expecting anything this year." Contrary to expectation, however, Shores and Dan Mercerio Sono Luminus managing director/head engineer shared a nomination for "Best Surround Sound Album" at the 2014 Grammy Awards for Sprung Rhythm, a collection of new works performed by the Washington DC-based ensemble, Inscape. "It's such an amazing honor," continued Shores. "Not only is this the category that is so close to my heart and so identifiable with the DNA of our company, but we are included among other nominees with such legendary talent. Indeed, the other nominees included the winners, Al Schmitt and Tommy LiPuma, for their work with Paul McCartney.
Sprung Rhythm arose from a three-day recording session at Sono Luminus' studio in Virginia, with all of the composers on hand to help fully-realize their visions. The number of musicians varied from piece to piece and ranged from four to twelve. "Rather than move mics to the instruments for placement during editing and mixing, we choose to set up the mics for ideal surround sound playback and then placed the instruments where they needed to be in the room," said Shores. "I believe that things should be recorded as they're meant to be heard, and we try to give both the musicians and our listeners the most organic experience that we can. This way of recording surround achieves that, I believe. Having the composers on hand was very helpful. They were able to help interpret their compositions spatially. Did it make sense to keep certain instruments close together? Should there be a call and response across the surround sound field? That sort of thing."
All seven microphones were B&K 4006s, with an additional Schoeps MK2s placed on the low-frequency instruments for a direct sub channel. Because the Metric Halo ULN-8 has no fan, they were able to place it in the center of the live room, which minimized the length of mic-level cable runs. They used the ULN-8's microphone preamplifiers and A/D converters as the front end to Pro Tools for a 24-bit, 192kHz session, and they used its D/A converters for monitoring. "The Metric Halo ULN-8 is so transparent," said Shores. "It's the best interface I've found for use with Pro Tools, and I often get praise for delivering recordings that 'don't sound like they were done on Pro Tools.' Since our goal is always to reproduce exactly what we're hearing in the room, pairing the ULN-8's transparency with clean, precise microphones like the B&K 4006 makes for a really stellar combination."
Shores happily admits that, from a mixing standpoint, his work at Sono Luminus is "quite boring." "The microphones are our surround sound channels, so there's nothing to mix," he said. Since the label releases everything on a Pure Audio Blu-ray™ Surround Sound disc, as well as on a standard CD, the listener hears almost exactly what Shores was hearing. "I monitor during editing, mixing, and mastering using the precision of the ULN-8 to ensure that I have an accurate representation of what the listener will get," he said.
Shores has already finished recording Sono Luminus' second Inscape release using similar techniques and equipment, including the ULN-8. And on his way to the Grammy Awards, Shores packed up the ULN-8 to take to California so that the following day he could record the Los Angeles Percussion Quartet, the same ensemble that earned him a Grammy nomination last year!