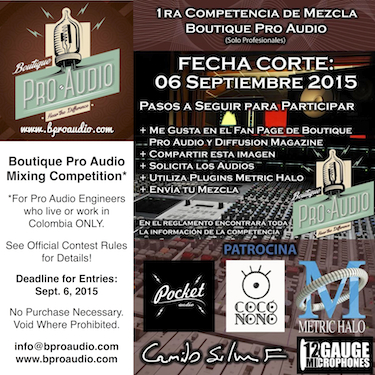 BOGOTA, COLOMBIA: Boutique Pro Audio - Metric Halo's Premier Dealer for Colombia - Proudly Announces its 1st MIXING COMPETITION!
When: Now through Sun., Sept. 6, 2015 at 11:59 PM
Who can participate: Pro Audio Engineers who Live or Work in Colombia (no purchase necessary)
Prizes: There are more than $3000 in prizes!
Please read the OFFICIAL CONTEST RULES for full details and instructions!
Contest Rules:
1. Mixing song provided by the Cocó Nonó band, recorded exclusively for use in this competition, is available via download
2. Use Metric Halo Production Bundle plugins* for AAX/AU/VST (free 30 Day Trial available in the link provided) to create a new mix.
3. Submit files to This e-mail address is being protected from spambots. You need JavaScript enabled to view it by Sun., Sept. 6, 2015 at 11:59 PM (see OFFICIAL CONTEST RULES for instructions)
*Although Metric Halo Plugins are required to be present throughout the mix, you are welcome to use other tools.
Boutique Pro Audio Mixing Competition OFFICIAL CONTEST RULES:
http://diffusionmagazine.com/competencia/reglamento.pdf
Click Here to receive a FREE 30 Day Demo License of The Metric Halo Production Bundle for AAX/AU/VST http://mhsecure.com/DemoCentral
Please contact Boutique Pro Audio for more information about the Mixing Competion, or to learn more about Metric Halo products, pricing and availability in Colombia:
Boutique Pro Audio
+57 (310) 768-3433
This e-mail address is being protected from spambots. You need JavaScript enabled to view it
http://www.bproaudio.com
The deadline to participate is Sunday, September 6, 2015 at 11:59 PM.
No purchase necessary. This contest is void where prohibited by law.
The Boutique Pro Audio Mixing Competition is proudly sponsored by Pocket Audio, Cocó Nonó, Camilo Silva F Mastering, Metric Halo, 12 Gauge Microphones and Isoacoustics and under the production of Boutique Pro Audio as operator of the event.