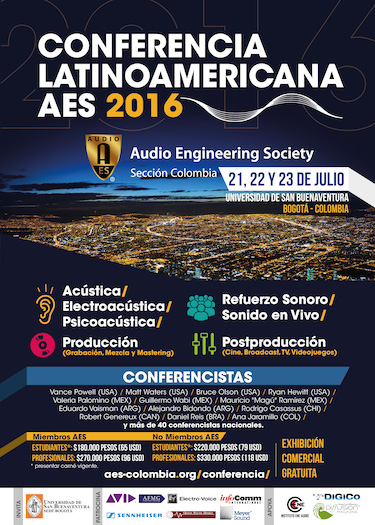 AES 2016 Latin American Conference
July 21, 22 & 23, 2016
University of San Buenaventura
Bogota, Colombia
http://aes-colombia.org/conferencia (en espanol)
**Metric Halo Demos Available** CLICK HERE for details!
BOGOTA, COLOMBIA: Metric Halo invites you to attend the 2016 AES Latin American Conference, taking place on July 21-23, in Bogota, Colombia. This annual event is one of Latin America's leading events for the audio industry, in which recognized speakers and panelists, in addition to manufacturers, exhibitors, professionals, fans and all interested in the world of sound gather to expand your knowledge, take a look at the latest in professional audio market, and attend multiple parallel activities that allow you to expand your professional network.
Attendees will benefit from the expertise of more than 50 national and 15 international speakers, and take part in the various activities planned such as lectures, demonstrations, panel discussions, and listening sessions, during this three day event.
There are two ways to attend:
Free Exhibition (Exhibition Hall Only)
Conference Pass (Full Access)*
Please visit http://aes-colombia.org/conferencia, TO REGISTER and to view complete pricing and program details.
*Discounted Pricing is available for students and special discounted pricing is available for current AES professional and student members.
Not a member of AES? Learn more about AES Membership and JOIN TODAY: http://www.aes.org/join
(or, visit the AES Colombia Section's membership portal - http://aes-colombia.org/como-ser-miembro).