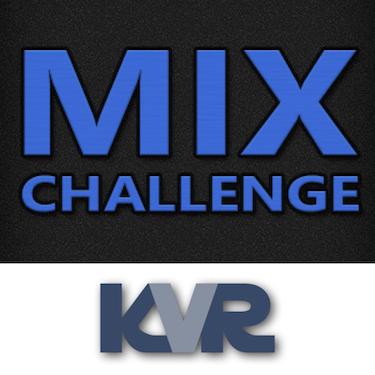 Congratulations to the winners of the KVR Mix Challenge #24 - Including R. Ortenzi, who just picked up a MH Precision DeEsser plug-in for AAX/AU/VST!
Up Next: KVR Mix Challenge #25 is LIVE
https://www.kvraudio.com/forum/viewtopic.php?f=62&t=469156
"In this month, we take a dive into the past, with the 70's/80'S Synth Pop inspired track, provided by "One Synth Challenge" regular The Present. His track is called "Don't Turn Me Away" and jabs at the music style from late 70ies to early 80ies.
At this point, we have to give a HUGE shout out to the OSC over in the instrument section. A lot of regulars helping out the Mix Challenge recently. We can't thank you enough."
Submission Deadline: September 21, 2016 11:59pm CEST/GMT+1 (Germany)
Click here for details:
https://www.kvraudio.com/forum/viewtopic.php?f=62&t=469156
Follow KVR Mix Challenge on Twitter: https://twitter.com/MixChallenge
Special Thanks to Mix Challenge Organizers:
Compyfox
Uncle E / Eric Dahlberg from JRR Shop
satYatunes