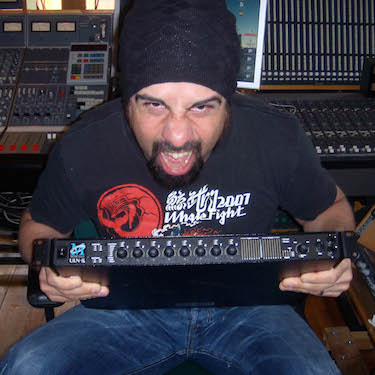 SAFETY HARBOR, FLORIDA – JANUARY 2017: Before 2013, Rob Caggiano was perhaps best known as the guitarist for American heavy metal behemoth Anthrax, a position he resigned in 2013 on good terms to follow his passion and broaden his horizon musically. Although it wasn't part of any kind of premeditated plan, Caggiano almost immediately joined the Danish heavy metal behemoth Volbeat and has remained with the band since, not only to shred their solos, but also to write solos and songs of his own with them. What's not so well known is that Caggiano won both positions as a producer and engineer and that he continues to bring great music into the world in that capacity with his trusty – and extremely portable – Metric Halo ULN-8 interface. "It's an entire studio in one rack space!" Caggiano said.
After recording drums to analog tape through the Neve at Electric Lady Studios in NYC ("the best drum room in the world"), Caggiano digitized them and recorded the rest of The Damned Things Ironiclast using his Metric Halo ULN-8. Now on hiatus, The Damned Things is a heavy metal super-group with members of Fall Out Boy, Anthrax, and Every Time I Die – and Caggiano! It wasn't long after finishing that recording that Caggiano went to record Volbeat in Denmark at Puk Studios – again with his Metric Halo ULN-8. It was in that capacity that he and the rest of the band realized that their chemistry was spot-on. Caggiano completed that album, Outlaw Gentlemen and Shady Ladies and officially joined the band. He recently completed that album's follow-up, Seal the Deal and Let's Boogie, again using his Metric Halo ULN-8.
Caggiano recently wrote songs with with comedian Jim Breuer and then recorded them (with his Metric Halo ULN-8!) at a friend's private studio. "Jim is one of the funniest dudes ever," he said, "but he's also a great rock singer!" That album, Jim Breuer and the Loud & Rowdy's Songs From the Garage, charted well and generated a lot of chatter about how everyone expected (and got) something funny… and something that really rocks too!
Clearly, Caggiano is in a position to use any interface that he wants to use. He upgraded to the ULN-8 from his two-channel Metric Halo ULN-2 six years ago to get more channels. "The Metric Halo preamps and converters are absolutely amazing," he said. "I've tried out a million converters, and these are at the top of the heap and they sound killer. I've also shot out tons of mic pres, and there are plenty of occasions when I choose the Metric Halo pres over APIs and Neves – it's in that class. They can be totally transparent if that's what I need, or I can use Metric Halo's Character settings to add grit and personality. I have Character on more often than not – it's really one of my favorite things about my Metric Halo interface. While I use the ULN-8 on everything, I think it really shines on vocals. It does something I can't really describe to vocals that I really love."
Given Volbeat's vigorous touring schedule and all of the other engagements Caggiano has, both big and small, he's constantly on the go (for him, staying put is a vacation!). He has his ULN-8 set up in a four-space portable rack along with a few other choice pieces of gear, and he brings it practically everywhere. "The ULN-8 is really a complete recording studio in a box," he said. "Although I don't try to make a habit of it, I can record guitar solos in hotel rooms by going direct in and then re-amping the signal later. It's an uncompromising combination of high-quality audio, flexibility, and portability."